Roberto Firmino is ready to make Porto 'suffer' as he maintains his personal crusade to elevate himself alongside Cristiano Ronaldo.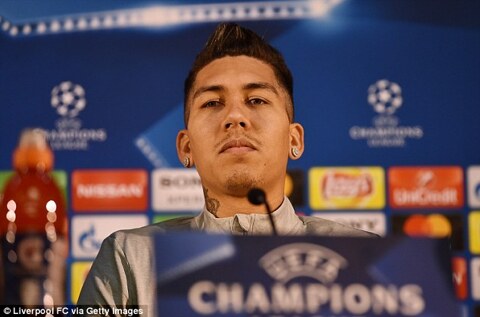 The Brazil international has hit an outstanding vein of form in recent weeks, his efforts epitomised by the goal and the stunning back-heeled assist he produced for Mohamed Salah in Sunday's 2-0 win over Southampton.
He has scored six goals in the Champions League for Liverpool this season, a tally that has only been surpassed by Real Madrid legend Ronaldo (nine) and the onus will be on Firmino to lead his side's quest to reach the quarter-finals of this competition for the first time since 2009.
Liverpool defender Dejan Lovren, who is pressing for a recall in the Estadio de Dragao, said last week that their Champions League rivals would be 'afraid' of facing Firmino and Salah and the former Hoffenheim forward hopes that will be the case in Portugal.
'I don't know if Porto are going to be afraid but we are going to make their life difficult and make them suffer,' said Firmino. 'I'm going to do what I can to help him score goals and to help all the team. I also want to help myself to make a good season.
'Porto are an excellent team with a good tradition in the Champions League. It is going to be a tough game and we will have to be at our best. Porto are a strong team. I know a bit about them. We haven't seen the videos yet but we know that physically and tactically it is going to be a very strong test.'
That Firmino is a contender to possibly win the race to be the Champions League's top scorer will surprise many as his influence arguably does not get recognised in the way that it should beyond Anfield.
His influence has been crucial, though, in helping overcome last month's sale of Philippe Coutinho.
'Coutinho is a great player and of course when he left that put a greater responsibility on everyone else to perform without him,' said Firmino, who has 20 goals in all competitions this season.
'But it is our job to deal with greater responsibility and I think we have done that so far.
'Of course I want to be at their level but I only focus on playing a good game. If I play a good game then the goals will appear. I am trying to give my maximum for the team and trying to be alongside these great players in Europe.'
Liverpool are favourites to reach the last eight and they are also dark horses to go all the way to the final in Kiev on May 26 but the thought of potentially adding a sixth European crown is not being considered by Jurgen Klopp.
I don't think the 2005 side thought about winning the Champions League before the last 16,' said Klopp.
'I'll ask Rafa (Benitez) but that would surprise me because it makes no sense. If we are in the final then I'll say we will try to win it but that is too far off. I don't like talking about the round after the round you are playing, in fact I hate it.
'I only answer nicely now because I am friendly and we are in public but if someone asked me about the round after the round in private I would leave the room.'