Jurgen Klopp walks into his private lounge at Anfield. He grabs a cookie from the table and takes a bite. He jokes around a little and sits down. Even amid cold chrome, shiny table-tops and sleek glass with hard edges, warm energy pours off him. I ask if his joie de vivre is ever an effort. 'Is it a choice?' he asks. 'I was never different.'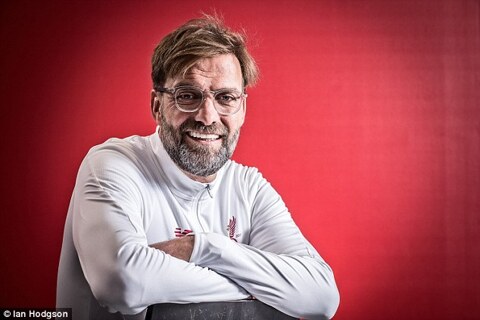 Klopp gets a vape machine out and fiddles with it a bit. 'I am not always in a good mood,' he says, 'but it's not long that I am in a bad mood. A bad mood is a waste of time. It's not useful. You suffer. It's like you have an open wound. You don't like it but when it's fixed, you don't think about it any more. So keep on going. That's my attitude.
'I hear people when they meet me in hotels… the guy who showed me to my room in Huddersfield a couple of days ago told me: "You are always smiling." And I said: "I'm not. You should have seen me after West Brom." It's an image but I have no problem with that. It's not that I'm constantly smiling but I like my life, that's true.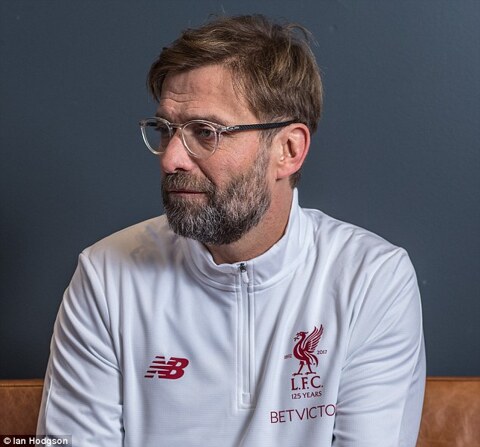 'I didn't always have the circumstances I have now and I was still rather happy. If I am not a happy person now, I would be pretty silly and I am not silly. I have a fantastic family. All are healthy, in a good place in life, I work for a fantastic club and I do a job I love, so how could I not be happy? Happy child, if you want. Not too smart but not silly enough not to come through.'
So Klopp leans back on the sofa in the corner of the room and takes the odd drag on his vape machine. And he talks about the magnificent 4-3 win over Manchester City last month. And he talks about the Spurs team his Liverpool side will face on Sunday and his admiration for Harry Kane. And he talks about the England team and how they can overcome their fears and how we are cutting our young players off in their prime.
And he talks about the Black Forest, where he grew up, and the characteristics of the people there. It is said they are modest folk who park the Mercedes in the garage and leave the Beetle on the drive. And that they are careful with their money. Klopp nods. 'Every pound is a prisoner,' he says.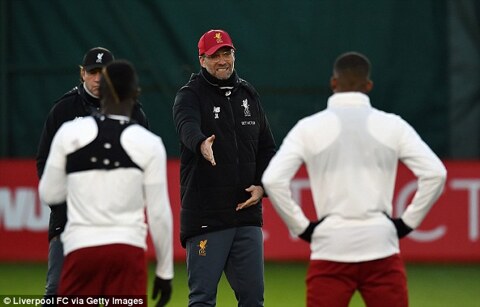 And he talks about his clubs, Mainz and Borussia Dortmund and Liverpool, and how his teams have to over-achieve because, one way or another, they often seem to be underdogs. And he talks about the transfer window that has just gone. And he puffs out his cheeks and smiles when I mention Manchester City flirted with the idea of paying £60million for Riyad Mahrez to help them deal with the six-week absence of Leroy Sane.
'Next level, eh,' says Klopp with a grin. But he does not say any of it with envy. Or bitterness. 'I never moaned about my circumstances once in my whole life,' he says. That is part of the key to understanding the Liverpool manager. Envy and bitterness are not in his make-up.
People watch his touchline antics and call him 'crazy' but if he is a madman, he is the most serene madman I've ever met. He laughs again about money and transfers and Virgil van Dijk. 'We bought a centre-half for quite a few pounds ourselves,' he says.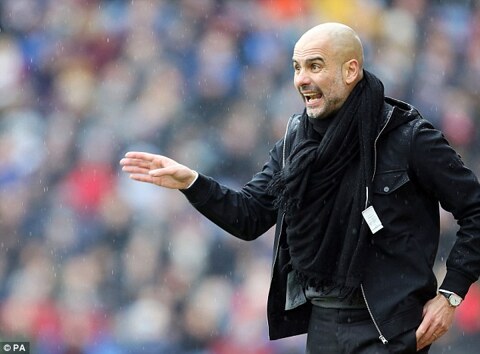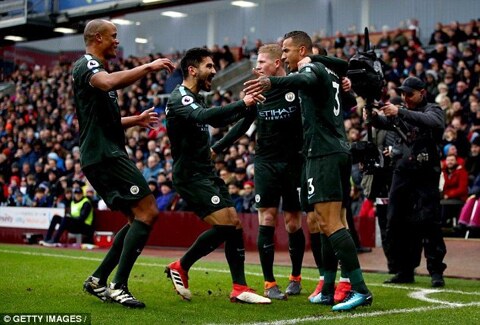 Klopp carries the air of a man who has discovered the secret. Remember that sign that Arsenal fans used to hold up in happier times? 'Arsene Knows', it said. Now Klopp knows. With Pep Guardiola and Mauricio Pochettino, he is one of a holy trinity of managers reshaping English football. These are fast times on the Anfield Road.
Klopp is content, self-contained. He does not stand on his tip-toes and peer over the garden fence so he can glimpse the new extension his neighbour has built. He does not covet what others have. Liverpool might have paid £75m for Van Dijk last month but they do not have the resources that City or United have. Klopp does not rage against that. He accepts it.
It does not mean his ambition does not burn fiercely. It does. He believes he will lead Liverpool to the title. But the quest is not destroying him. The job will not turn him into a walking storm cloud like Antonio Conte, a man tormented by resentment.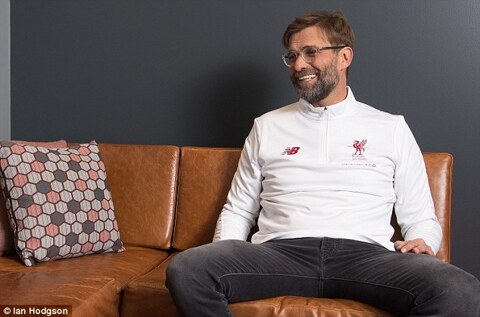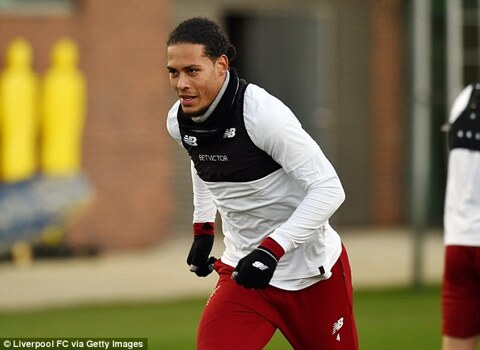 Liverpool and Chelsea are level on points but one man is building and the other is disintegrating.
Klopp's philosophy flies in the face of modern society's obsession with instant gratification: be happy with what you've got, don't measure everything against your rival, think about the players you watch in your own team and keep the faith that things will grow, do not be silly enough not to come through.
In Voltaire's satire Candide, the hero decides at the end that, after witnessing all manner of horrors and excesses, after seeing jealousy and avarice, he has the antidote. 'Il faut cultiver notre jardin,' he says. Look after your own garden. Don't worry about others. Klopp smiles again at the mention of it.
'It is always like this,' he says. 'You can be a millionaire and your neighbour is a billionaire and you are not happy only because you live in the wrong neighbourhood. Maybe you want to move your house to where there is no billionaire and then you are the king of the road. Please, I cannot be like this.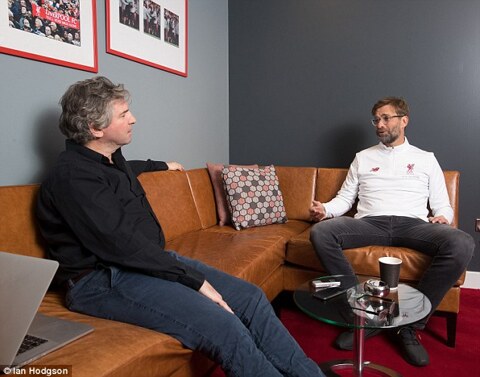 'I'm not only thankful for my life, I'm thankful for the circumstances we have. We have to use it. It's just exactly like it should be. If we can really develop, then we can be more successful. There is not much of a gap any more. It's not as if there are eight places between us and the top. One team has been outstanding this season.

'We have to accept City as our neighbour and say they play fantastic football and it's nice to watch and that's OK and it's well deserved. We have the chance to do it similarly. That's what we're building towards. The only problem here is that the people are waiting so long, otherwise they could be happy with the situation. But we cannot change our history and we don't want to, so we have to deal with it.
'If we talk only about the money City have, you cannot compete. We said it already: we have two clubs in world football which are owned by countries. We cannot compete with that. It would be easy for me to say that, in comparison, "we have only FSG (Fenway Sports Group)". But I don't think that because we have FSG and they are fantastic.
'We have Mike Gordon, the FSG president, and he is the most supportive person I have ever met. It's crazy. He says: "Sorry, they can do that and we can't." I know that's impossible. So I don't think about how we can compete. We can beat Man City like we did last month. We need to play at our very best. We didn't need too much luck that day. That's football and I love it.
'In the long term, did Man City have a one per cent influence on the results which led to the 19-point gap between us? No. Only us. We could have won games. With a little more luck we would be closer and could have made more pressure but we didn't. That's OK. Only if you compare are you not happy.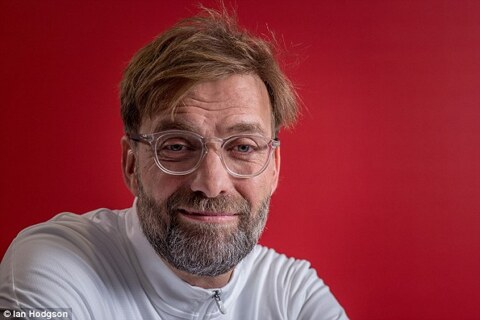 'The only chance we have is to use the time we have. Nobody puts us under pressure from the side. The owners don't say, "next year, you be champions or you can go." It's outsiders who say, "if he doesn't bring silverware in, he's under pressure."
'If the people here want to work together for that one moment when we can succeed and that's possible, then everything is fine.'
After back-to-back defeats against Swansea, in the league, and West Brom, in the FA Cup, Liverpool dragged their season back on track with a 3-0 win at Huddersfield on Tuesday night that restored confidence ahead of Sunday's clash with a Spurs team who outplayed Manchester United at Wembley on Wednesday evening. Liverpool are only three points behind second-placed United now but Klopp says the clash with Spurs will not define their season.
He doesn't deal in sweeping statements. He does accept it is a big test against a team packed with talents like Kane, Dele Alli and Eric Dier, who will be leading England's World Cup campaign this summer.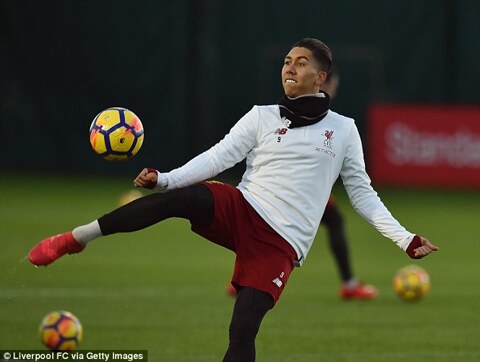 Klopp, 50, does not share the pessimism that is ingrained in so many England supporters about the team's chances in Russia but he knows that doubt, and self-doubt, has become part of the English psyche. 'What did you think when England qualified?' he says. 'I thought, "we'll get knocked out in the second round",' I tell him. Klopp laughs. 'In Germany nobody thinks that,' he says.
'Kane is one of the best players in the world, 100 per cent, if not the best pure striker in the world at the moment. (Romelu) Lukaku is a fantastic striker but Kane is top in this league with Roberto Firmino. In Germany, it's (Robert) Lewandowski. I worked with him and he is a fantastic striker. It's a close battle.
'Look, for England to win the World Cup everything is there that you need. You have fantastic players. You have youth players coming up. There is no side like Manchester City in the World Cup that is ahead of the rest. Why has England a chance? Because they don't have no chance. There are a bunch of teams who can go through. You always need a bit of luck.
'Maybe it's fear that holds you back. The penalty shootout. For Germany it's quite simple: they say, "Let's go to the penalty shootout and then you'll see". For England, the fear starts inside like a little worm and then it gets bigger and you think, "Wow, that goal is really small". Quality is not a problem.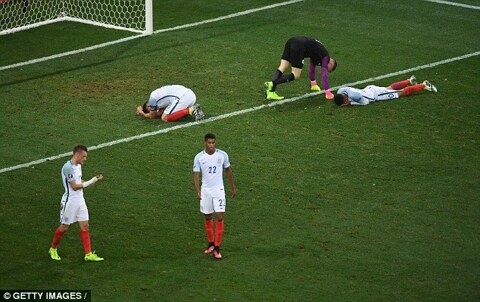 'You have to learn a winning mentality. The good thing is not to read any newspapers and stop watching on social media. Stick together, stay by yourself and start believing as a group. That's how it starts. All successful history starts with a dream. So let's go for it. And if there are any doubters out there, tell them where to go.
'In English football you cannot have it all. You cannot bring in the best foreign players from all over the world to the Premier League and give your home-grown players enough space to grow. It doesn't work.
'They need to play. Now the first few English players go to Germany. Jadon Sancho is good at Dortmund. (Ademola) Lookman went to Leipzig. This is an island but there is a world out there, so go and come back stronger.
'Maybe we can talk about education, too. In England, the focus is so early on pure football. Even when they are at the academy, they have this agreement with schools. In Germany, you have to go to school until you finish school. In Germany, during the week, they go to school and they train when they come back. Here, they train like professionals.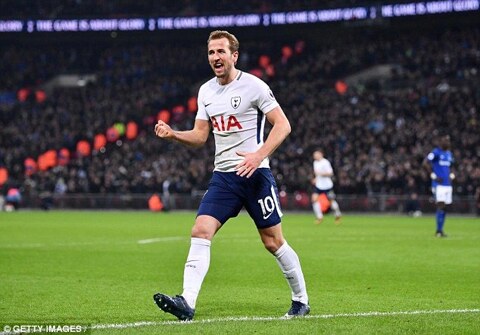 'That's good for football but you don't get confident people. You get good left foot and good right foot but they have pressure like hell. My credit card was cut three times in my life and it was not for fun. I know how it is.
'The money is so important for them that they plan for it before they've earned it. There is so much pressure on the boys that they can't enjoy it. They need to bring something home early and that is always the enemy of improvement.'
Everybody needs time. Klopp is no exception. Ending Liverpool's long wait for a title was never going to be a quick, easy job. But his history is the history of a man whose teams over-perform. His history is the history of a man who is not cowed by facing down an opponent who waves a wad of cash in his face.
'My first team in Mainz, we had to over-perform constantly,' he says. 'And we did. Until we went down. Going to the top league was crazy. Getting promoted was crazy. Not possible, actually, with these guys. Nobody wanted them. They were all third, fourth-chance. We did it. Fantastic. Friends to the end of my life.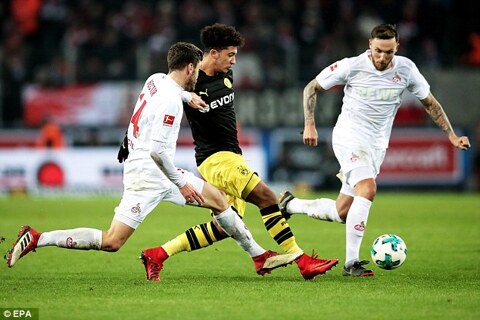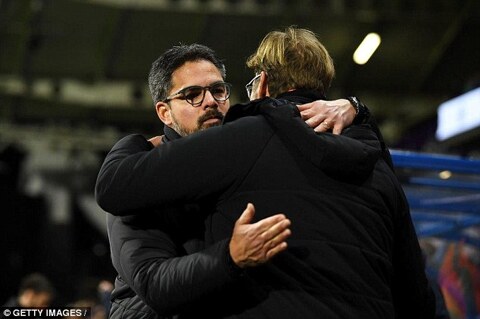 'Dortmund was similar. They were so young they had to over- perform constantly. And here, we have to over-perform, too. That's no problem. That's the point where we are as a team. That's why we drop some points sometimes. Mo Salah, world class, but not every day. Sadio Mane, world class, but not every day. Roberto Firmino, world class, pretty much every day.
'In an ideal world, the game against Spurs will be comparable to our game against City at Anfield because the two games for us against City and Spurs are, from a football point of view, the most nice to watch. It's got nearly everything. It's like when the two knights pull down their face armour and ride at each other in a joust. Go for it. I really like that. It's an open fight.'
And so Klopp's march goes on. The march upwards. The march onwards. The refusal to be deflected. 'We live in our own little cosmos,' the Liverpool manager says. 'So far so good. Not perfect. We know that. I have to say this all the time because people say I'm happy with that. I'm not overly happy but I'm fine with it. I'm ready to use it.'