I'm still recovering from the ending of last night's game. Phew! Them Germans eh?! I review the two matches from that group in this article. I also preview Group H, who play both their matches today.
Reviews
Group F
Match 3: South Korea vs Mexico
Mexico started off where they left off against Germany, taking control of the game in the early exchanges. They were rewarded, albeit with a fortunate penalty decision in the 24th minute. The South Korean goalkeeper did his best at mind-games before the kick was taken, but it proved ineffective as Vela converted. The rest of the first half was mostly uneventful, with South Korea unable to come close to a leveller. Cho pulled off a spectacular save on the hour mark from Guardado's long range effort. Mexico's constant pressure was rewarded a few minutes later after another trademark counter-attack resulting in Lozano finding Hernandez free to his left, and the striker made no mistake in dodging a sliding tackle and finding the net. This was the Mexican striker's 50th international goal, and he extends his lead as his country's top scorer. The game fizzled out with Mexico keeping control. In injury tiem, South Korea's only real impact player, Son Heung-Min curled in a scorching effort, to which Ochoa had no response. It was only a consolation as Mexico almost confirmed their progress into the next round.
Final Score: South Korea 1 – 2 Mexico
Match 4: Germany vs Sweden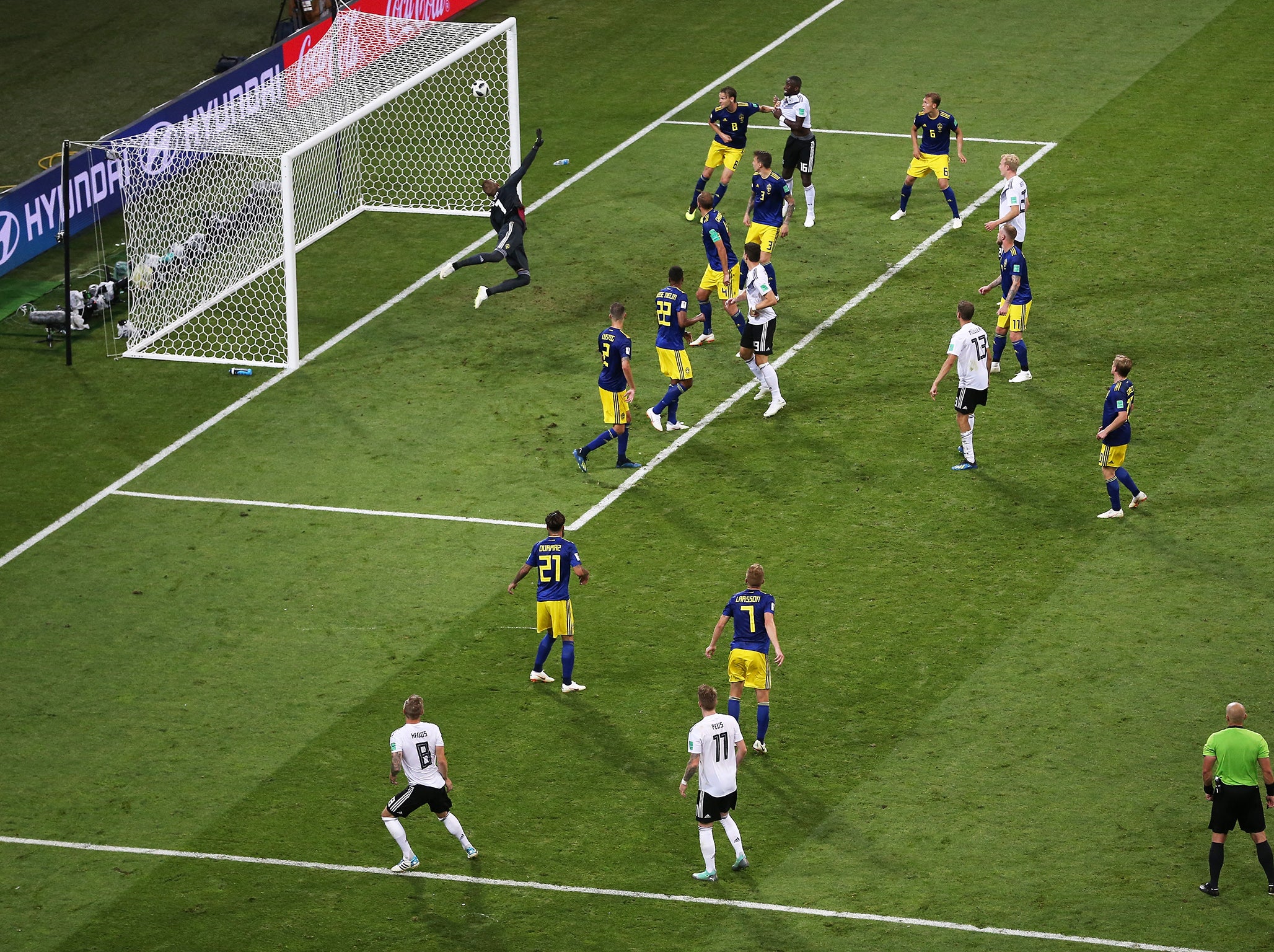 Germany started off like a team possessed, bombarding the Swedish goal in the opening minutes with a flurry of attacks and attempts. The passes count at the end of 10 minutes read 122:6 in favour of Germany. However, familiar defensive frailties came to the fore when Marcus Berg ran onto a through ball between the two centre-backs, with Hummels not playing because of injury, and it only took a tug on his shirt from the chasing Boateng for the Swedish forward to scuff his effort and finding Neuer at the end of it. That could very well have been deemed a foul and Boateng could've been sent off for being the last man. The Germans got lucky in this case. Their luck didn't last very long though. Toivonen received a chipped pass from Claesson from the left wing, got his shot off which deflected off Rudiger and lobbed over a helpless Neuer. The defending champions were rocking and it seemed like the curse was about to strike again. Gundogan, who was a replacement for the injured Rudy, took a shot a few minutes later took a wicked deflection but the Swedish goalkeeper recovered to stop it. Muller did not get a good connection on the rebound under pressure. The ball squirmed under the goalkeeper, who was still on the floor, and rolled just wide of the goal. Sweden had another chance at the end of the half this time it was close to Neuer and he palmed it away. Germany came out of the blocks all guns firing once again and levelled in the 48th minute. Werner drove down the line on the left wing, fired a grounded cross which Reus got on the need of and scored. Germany kept control of the game for much of the second half but just couldn't find the breakthrough. Their worries were compounded when Jerome Boateng was awarded a second yellow card inside the final 10 minutes. This was now looking taller than Everest! The Swedes failed to capitalize however, sitting back and letting 10 man Germany have the ball as they willed. Julian Brandt hit the post in injury time, in a throwback to his effort against Mexico, and the result was the same, the ball cannoning off the bar and Werner being offside for the rebound. Germany were awarded a free-kick on the edge of the area on the left side after a silly foul. Kroos stood behind it, passed it to Reus who held it up, for Kroos to follow up with a shot and it was unstoppable. The ball curled past the advancing wall and Olsen had no chance. The Germans had come back from the brink, and the group is wide open again.
Final Score: Germany 2 – 1 Sweden
Previews
Group H
Match 3: Japan vs Senegal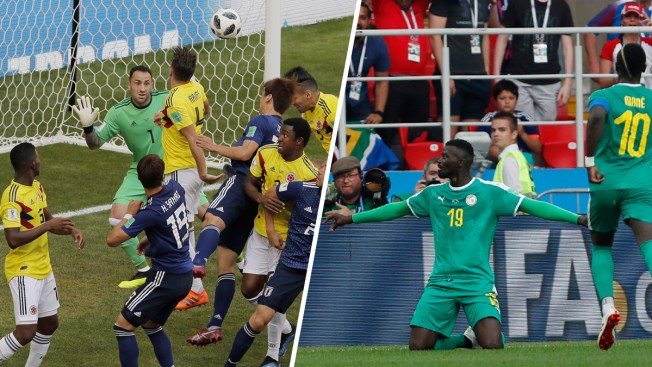 Both teams have won their opening fixture, with Japan taking advantage of their numerical advantage for most of the game, and pulling off an upset over Colombia. Senegal were the better team throughout against a wasteful Poland and took all three points. Whoever wins this game will put one foot into the Knockout rounds. Senegal should have too much quality in this match, with Japan really on a couple of players to make things happen for them. I can see the Senegalese break down their opponents with their overall game and predict a win for them.
Prediction: Japan 0 – 2 Senegal
Match 4: Poland vs Colombia
Both teams will be looking to get their campaigns back on track and a defeat would mean near elimination. Colombia looked good in patches in their opening game, doing well to draw level even after going down to 10 men, but couldn't hold on for a point. They will hope for James Rodriguez to be fit to start this game, as he can really be the difference-maker. Poland will be hoping to be more clinical in front of goal. The Poles look a better outfit on paper, with a lot of top level experience for their players. I predict Poland to just shade and do believe there will be goals in this game.
Prediction: Poland 2 – 1 Colombia