The first two groups completed their Group stage matches and we now know the first four teams and the first two match-ups in the Round of 16. In this article, I will review those matches from Groups A and B and also preview today's matches from Groups C and D.
Reviews
Group A
Match 5: Saudi Arabia vs Egypt
Mohamed Salah scored with Egypt's first real attack, although it did come after 22 minutes. The EPL's highest scorer showed the kind of touch that got him all those goals, running onto a long ball from El-Said and chipping the Saudi goalkeeper. He reached 50 goals for the season with club and country with this goal. Salah ran in behind the opposition defense once again, was one-on-one with the goalkeeper, chipped him but put his effort wide to the disbelief of most the people watching. Saudi Arabia were awarded a somewhat fortuitous penalty after a cross hit Fathi's trailing arm. The defender was very close to the shot and wasn't at all trying to stop the ball with his arm. Justice was served when El-Hadary saved Fahad Al Muwallad's penalty excellently. Saudi Arabia did find the equalizer in first half injury time, 6th minute of it, after they received yet another penalty. It was referred to VAR but the original decision of awarding a penalty stood. Al-Faraj stepped up this time and converted. The game lost most of its fizz in the second half, with the occasional chance, the best coming from Al Moqahwi's header which was turned over the bar by the keeper. Egypt were dealt a hammer blow and fell behind in the 95th minute. Salem Al-Dawsari found space and placed a volley in the far corner. The Saudi's had restored some pride, but for Egypt, this was a nightmare tournament.
Final Score: Saudi Arabia 2 – 1 Egypt
Match 6: Uruguay vs Russia
All eyes were on the hosts after their superb start to the tournament. Uruguay were expected to be as miser as ever and this was touted as a good battle between Russian flair and Uruguayan solidity. What it turned out was a stark reminder of just how much Russia have to do to get past the Round of 16, having already qualified. They fell behind in the 10th minute from a Suarez free-kick from the edge of the box. Cheryshev got a chance to equalize two minutes later after a good cushioned header from Dzyuba, but the former hit the shot directly at Muslera who saved easily, and Godin cleared the follow-up. Diego Laxalt then saw his long range effort deflect in off the unlucky Cheryshev. It was an uphill task now for the hosts. Uruguay had more chances to score, and only a combination of Muslera and last-gasp defending kept them from extending their lead. It got worse for the hosts, as Smolnikov was sent off for a second bookable offense. The hosts had lost their verve and were quickly losing their heads. Not much happened in the second half, as Russia failed to mount much of challenge with a man down. Akinfeev saved spectacularly from Rodriguez in injury time. The resulting penalty led to Uruguay's third goal, Cavani showed the most desire to get on the end of the rebound from Godin's header, and finally scored his first goal of the tournament. The Uruguayans were coming good at the right time, and would be a tough opponent for whoever faces them in the Round of 16. A lot of reflection needs to be done for the hosts, as they faltered in the face of the first real challenge they faced.
Final Score: Uruguay 3 – 0 Russia
Group B
Match 5: Iran vs Portugal
Iran held their own against the fancied Europeans, although the latter had quite a few openings to score in the early exchanges. Ricardo Quaresma finally gave Portugal the lead just before half-time with a superb outside-of-the-foot shot from outside the box which nestled into the top corner. Portugal were awarded a penalty, after a delayed deliberation with VAR, inside the first 10 minutes of the second half. Ronaldo stepped but inexplicably couldn't convert, hitting too close to the goalkeeper, whho guessed the right way. It's been a bad World Cup for superstar penalty takers! Iran retained their plucky self from the Spain game, and didn't give up till the end. Ronaldo got away with only a yellow card after replays showed him elbowing Pouraliganji. VAR somehow was not conclusive enough to change the decision. In injury time, they were awarded an extremely harsh penalty Azmoun's header hit the defender's arm from barely a yard away. Iran leveled with Ansarifard scoring the penalty. Taremi missed a glorious opportunity to score again just a minute later, finding the side net instead. That was the last roll of the dice as Portugal held on and qualified. Iran can leave the World Cup with their heads held high.
Final Score: Iran 1 – 1 Portugal
Match 6: Spain vs Morocco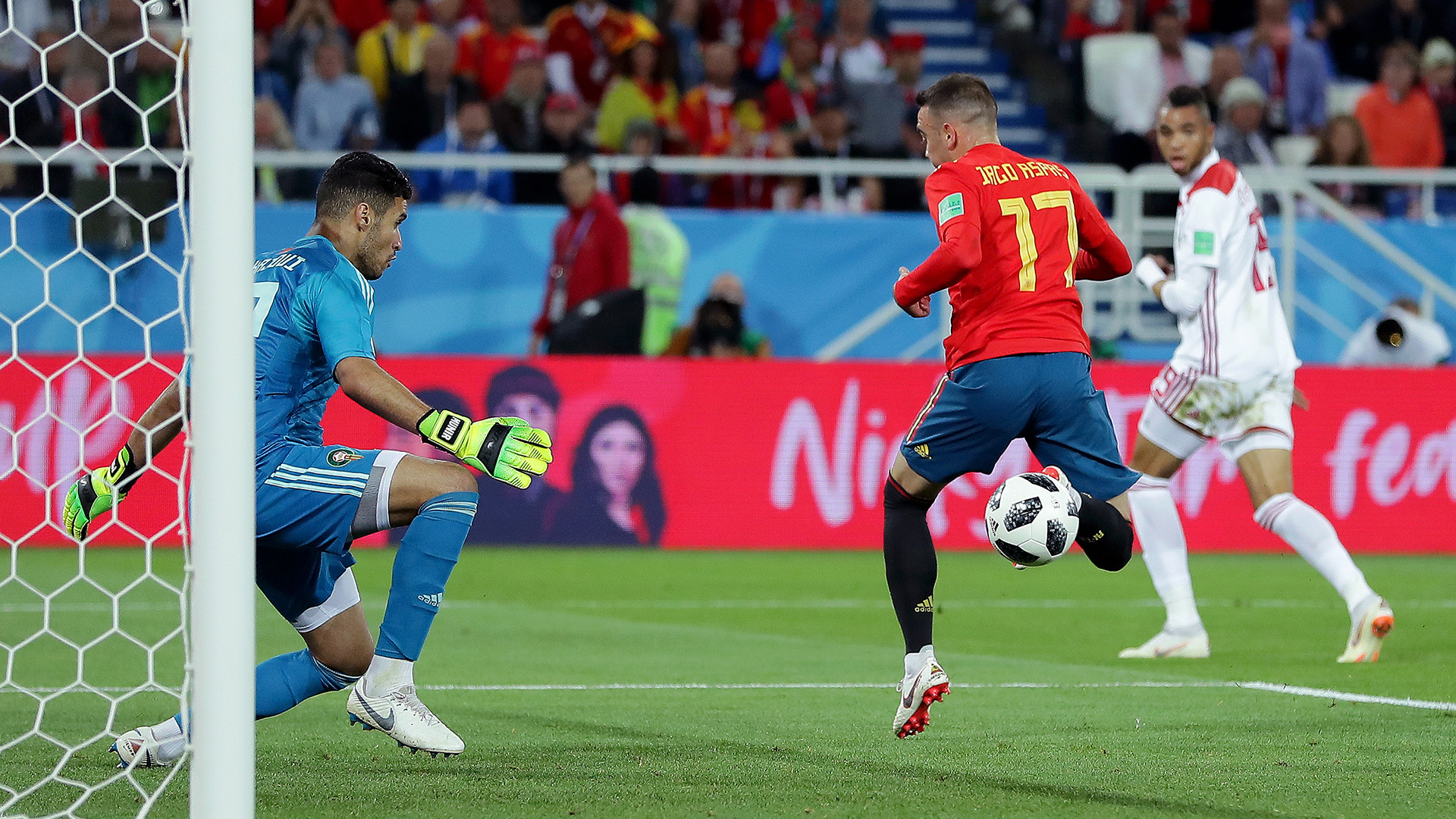 Morocco got off to a dream start, taking advantage of some uncharacteristic Spanish sloppiness, with the ball picked up by Boutaib on the half-line, and he ran through towards goal scored through De Gea's legs. This was the fourth shot on target that the Spanish stopper had faced in the World Cup, and he had not stopped any! Five minutes later, Spain broke through the Moroccan defense with some characteristic short passing interplay between Isco, Costa and Iniesta, with Isco finally scoring from a Iniesta cutback. Boutaib once again got in behind the Spanish defense in the 25th minute, taking advantage of the no offside rule from throw-ins. This time though, he couldn't convert one-on-one against De Gea, who finally stopped a goal bound shot. Morocco came agonizingly close to taking the lead in the 55th minute when Amrabat's fierce long-range effort came out off the bottom of the bar. De Gea hadn't moved. The Spanish defense really struggled in this game, with Ramos having an off day, and they were punished from an 81st minute corner as En-Nesyri heading in. If only Morocco had not already been eliminated; they were hugely impressive here. Spain did equalize again in injury time, but it wasn't without controversy. The assistant had flagged for offside on goal-scorer Aspas, but the decision was reversed by VAR and the goal awarded. The Moroccans were furious with the decision and made their feelings known both during and after the game. It was a hugely exciting match, and like Iran, Morocco can too go back home with their pride intact.
Final Score: Spain 2 – 2 Morocco
Previews
Group C
Match 5: Australia vs Peru
One team who've been hugely determined not to lose, while the other has shown enough flair to have progressed on the next stage, but unfortunately have already been eliminated. Australia drew with Denmark to keep their hopes alive, after nearly pulling off the same result against France in the first game. Peru gave the world some exciting football but inexperience showed in both their games. With Peru having nothing to play for, I believe Australia will have enough determination to get a positive result. I don't expect too many goals in this game either.
Prediction: Australia 1 – 0 Peru
Match 6: Denmark vs France
Normally, I would've predicted a draw in this game, which would mean secure qualification for both. However, given that France haven't been at their fluent best in their opening two games, despite getting the desired results, they will be hoping to show what they are capable of in this game. They will also be looking to get back at the Danes for their coaches strong remarks prior to the tournament. So far, Olivier Giroud has been France's most influential player, and he will once again be the same against a solid Danish defense. It remains to be seen whether the flair players in the form of Mbappe, Griezman and Pogba can finally turn on the style in this tournament. I predict a narrow win for France which will make the battle for second in the group very interesting.
Prediction: Denmark 0 – 1 France
Group D
Match 5: Iceland vs Croatia
After an incredible opening performance getting a draw against Argentina, Iceland fell away in their game against Nigeria and slumped to defeat. This puts them in a very difficult position in terms of qualifying from the group as they're up against perhaps the most accomplished looking in this World Cup so far. Croatia were ruthless in their destruction of Argentina and will look to end the group on a high. They have already qualified and a point is required to ensure first place in the group. A point won't be enough for Iceland however. As such, I expect this to be an open attacking game, with Iceland looking to take their opponents head-on. This will definitely open up opportunities for the excellent Croatians on the counter, so I do expect goals here. I'm going to go with a surprise result and a narrow Iceland win in this game, mostly because the Euros showed us that they are a team that should never be counted out till the end. The manager had hinted at resting some player for this game, and that could also be a factor.
Prediction: Iceland 1 – 0 Croatia
Match 6: Nigeria vs Argentina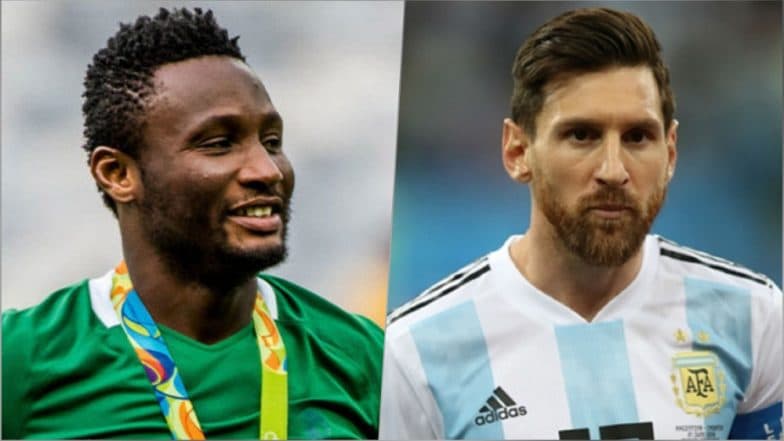 Very few would've predicted that the group would stand the way it does right now, when these two teams would face off. But here we are, and going by the last outings for the two teams, Nigeria indeed look to be the favourites to get a desirable result from this game. The Argentinians need to pull up their socks, change their starters and get their tactics in order if they are to keep themselves in contention to qualify. They have to win, there's no two ways about it, and maybe that will get them fired up for this game. The Nigerians have already come out with the mind-games ahead of this match, and it is clear they are up for the challenge. This could become one of the games of the tournament if both teams show up, but it's hard for me to pick a winner. I will go with a scoring draw, and yes, that would mean Argentina's elimination.
Prediction: Nigeria 1 – 1 Argentina