Halfway through Matchday 3 and the good times keep on rolling at the World Cup. This has been one of the most exciting Group Stages the World Cup has seen in a long time, with the fates of teams hanging by the balance till the last minute. It was no different in one group yesterday, while the other group slipped into anti-climax. I review the matches from Groups C and D in today's article. I will also oreview tonight's games for Groups E and F.
Previews
Group C
Match 5: Australia vs Peru
Australia went into this game with a slim chance of making it to the next round. Peru have impressed and entertained but find themselves already out of the running. The latter got off to the better start. Andre Carrillo volleyed in from a Guerrero cross with 18 minutes on the clock, a superb finish from the right winger from a difficult angle. Australia pressed for the equalizer, and Rogic nearly got it after dribbling past four defenders, but his shot was straight at the goalkeeper who kept it out. Some desperate defending kept out the Australians again a few minute later. Peru, like in the first, started the second half better and extended their lead in the 50th minute. Captain Guerrero scored this time after having assisted the first. Australia's slim hopes were slipping away. Australia had a good chance to get one back 10 minutes later from a corner but Behich's shot was agonizingly wide. Nearly the same situation repeated a minute later, and this time it was a Peruvian block in front of goal which kept the Aussies out. That is as good as it got for the latter, as their challenge fizzled away. Peru took home a deserved victory from the tournament and Australia once again failed to get out of their group.
Final Score: Australia 0 – 2 Peru
Match 6: Denmark vs France
France put some early pressure on the Danes, with Hernandez cutting in from the left, leading to a shot from Giroud which was saved, and a penalty shout from Hernandez which was turned down. Denmark had a chance at the half-hour mark, but Mandanda closed down Eriksen who had ran past his defender and nearly reached a through ball from the left wing. The best both teams did for the next half an hour or so were shots from distance, one of which was spilled by Mandanda but he recovered to gather. And the trend of long range efforts continued for France as Denmark sat back and played for the draw. Fekir had two efforts but they didn't go in. In injury time, Mbappe made a mazy run through the Danish defense with the help of a couple of lucky deflections but could not find a teammate in the box. That's it remained, meaning that this was the first 0-0 draw of the tournament. It's taken 38 games! Both teams qualify from the group.
Final Score: Denmark 0 – 0 France
Group D
Match 5: Iceland vs Croatia
Croatia were already through but Iceland had all to play for. Croatia rested nine players, which would've come as further motivation for their opponents. Iceland came out firing, with a couple of early chances, which also included some sloppy defending from Croatia. Subasic made an acrobatic save from Gunnarsson's curling effort. Croatia finally got into the game in the second half. Badelj hit the bar from more than 30 yards out with the goalkeeper beaten. And it was Badelj who broke the deadlock just a minute late with a fine half-volley from a difficult height. Iceland nearly equalized immediately. Subasic tried to punch a corner but missed but recovered to save Ingason's goal-bound header. Ingason hit the bar from the resulting corner. Iceland finally got level in the 75th minute, after being awarded a penalty for handball. Sigurdsson made no mistake this time, having missed from the spot against Nigeria. Iceland needed another goal to keep their hopes alive, and having seen them in the past, one could never count them out. However, it wasn't to be for the tiny island nation as they were dispossessed in defense by Badelj, who set up Perisic. The latter scored into the far corner to send Iceland home, and confirm Croatia winning the group.
Final Score: Iceland 1 – 2 Croatia
Match 6: Nigeria vs Argentina
Argentina were inexplicably on the brink of elimination after their defeat to Croatia. They had to win this match, and that too by a goal more than Iceland. As we know, the latter could not pull it off but Nigeria were on 3 points and only needed a draw in this one. Much like their first match against Iceland, Argentina started off in determined fashion, causing some problems for the Nigerian defense. On 14 minutes, Banega played a superb cross-field lob which Messi controlled with his chest, set it up with two further touches and shot past the goalkeeper with his 'weaker' right foot. Messi had arrived at this World Cup and the fans were going crazy. The game slowed down a bit, with both teams struggling to take control of the midfield. Messi hit the post from a free-kick, which the goalkeeper got fingertips to. That was actually a very good save from the latter. Nigeria were awarded a penalty at the start of the second half when Mascherano brought down Balogun. Perhaps it was a soft decision, but the Argentine defender did have his arms wrapped around his Nigerian counterpart, who rather easily fell to the floor. Victor Moses stepped up and converted and now Nigeria were going through. Ighalo had a glorious opportunity to get his team ahead after some loose defending by Rojo in the box. The Nigerian forward fired wide, but then there were massive appeals for handball against Rojo. The replays showed that the ball did hit Rojo's hand, after he headed it himself but the referee deemed it unintentional. This was similar to the penalty given against Portugal against Iran just one day earlier, and this inconsistency is what gets fans on the edge. All things said and done, Ighalo should really have scored anyway. 10 minutes later, with Nigeria having absorbed a lot of pressure in the mean-time, Mercado found space on the right wing and swung in a cross to the center of the area. Rojo, of all people, was the one that got on the end of it and volleyed it into the bottom corner. Fortune had turned again and once again, Argentina were heading to the knockouts. Nigeria could not come back for a second time and somehow Argentina had held on and were moving on.
Final Score: Nigeria 1 – 2 Argentina
Previews
Group E
Match 5: Mexico vs Sweden
Mexico, though not already though to the knockouts, will see this match great opportunity for them to win the group and possibly avoid Brazil in the next round, who are expected to win Group F (more on them later). All they need is a draw. Sweden are tied for second with Germany and will also be looking for a positive result. As such, we can expect an open encounter, as both teams will look to go for the win. If Mexico play like they did against Germany, they can very well exploit the gaps that might open up when Sweden press forward. The partnership of Lozano, Hernandez and Layun up front has been very fruitful for the Mexicans and they will be looking for more goals in this match. Sweden were very unlucky to not even get a point from their match against Germany, wand will be under pressure here. They will need to be positive once again and play much like they did in the first half against Germany. I think both teams will cancel each other out, with goals for them both.
Prediction: Mexico 1 – 1 Sweden
Match 6: South Korea vs Germany
The defending champions came back from the brink against Sweden and now find themselves in a match they will expect to win. Having said that, they were expecting to ease through this group but that hasn't happened. South Korea, despite two losses are still out of the tournament. If they win here and Mexico beat Sweden, with goal differences in their favour, the Asian nation can still qualify. It looks unlikely, but stranger things have happened. Germany looked to have found their groove in the second half against Sweden. They created a lot of chances, and got away with their wastefulness. The defense frailties also came back and they would need to be wary not to repeat the same. South Korea have not played well so far, but they have enough to trouble the German defense. I do believe the world champions should have enough quality to win this easily and qualify from the group, but maybe only in second place.
Prediction: South Korea 0 – 3 Germany
Group F
Match 5: Serbia vs Brazil
Brazil will have a task on their hands when they take on the solid Serbian team. The latter will be utterly disappointed to have let their lead slip and eventually lose against Switzerland. Still, they have 3 points on the board and are very in with a chance to qualify. Only way to do that though is by beating the formidable Brazil. The South Americans relied on two very late goals to overcome Costa Rica and will be hoping for a simpler passage in this match. That might be difficult as the Serbian midfield has been very good in both their matches. This game will probably come down to whether Brazil can break down their opponents' structured team, with the latter likely to rely on counters to break through Brazil's sometimes shaky defense. I expect another cracker of a match, akin to what we saw in the Argentina vs Nigeria game last night. I will go with a shock and predict a narrow win for Serbia in this game.
Prediction: Serbia 2 – 1 Brazil
Match 6: Switzerland vs Costa Rica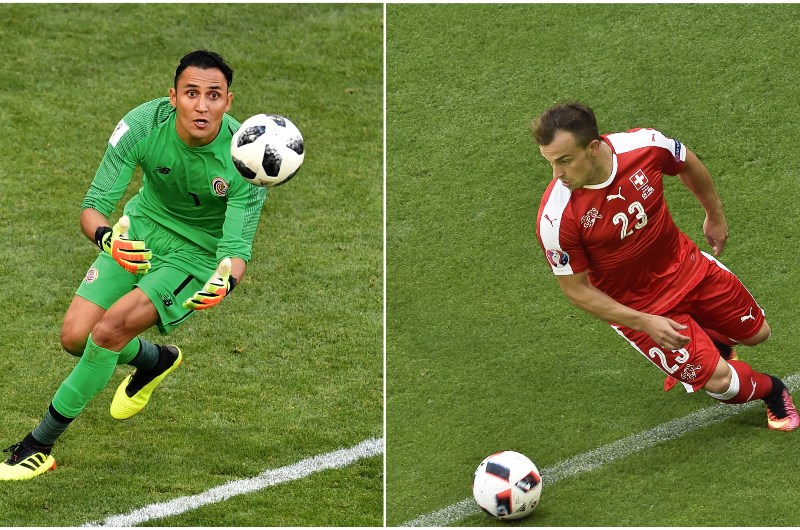 Switzerland need just a point to qualify while Costa Rica have been eliminated. The Swiss showed considerable resolve to come back from a deficit against Serbia and are now favourites to qualify from the group. Whether they finish first or second is not entirely in their own hands. Costa Rica did well to keep Brazil out for 90 minutes but haven't looked like a scoring in the tournament. I'd be very surprised if they get anything from this game and will predict a comfortable Swiss victory.
Prediction: Switzerland 2 – 0 Costa Rica