The shock of all shocks took place last night as Germany were eliminated from the World Cup after losing their final group game to South Korea. This World Cup keeps churning out incredible stories every day. This is probably the best Group Stage I've ever seen, and this is the sixth World Cup that I have followed!
I wrap up all the storied form Groups E and F, also checking in on the performance of the other big team on show yesterday, Brazil. I will wrap up this article with the Previews for Groups G and H.
Reviews
Group E
Match 5: Serbia vs Brazil
The heavyweights needed at least a point from this game to ensure qualification. Serbia had shown to be a solid outfit in their previous matches, and only a second half slump against Switzerland sees them in a must-win situation in this game. Brazil were the much better team in the first half, cutting open the Serbian defense on a number of occasions. It took 36 minutes but their persistence was rewarded when a perfect Coutinho through ball found Pualinho who dinked the bouncing ball over the goalkeeper. Serbia started the second half better and made Alisson work on the hour mark. Rukavina's cross was palmed away but into a dangerous area by Alisson, but Mitrovic could only head the rebound straight at Thiago Silva with the goalkeeper out of position. Alisson recovered to grab the rebound off his own defender. And it was Silva who seasled the result in favour of Brazil a few minutes later, rising highest at the near post to head in a Neymar corner. Neymar did find time to fall comically in the match, performing and multiple lateral twist in the process. Some things never change! Brazil were through and Serbia were eliminated.
Final Score: Serbia 0 – 2 Brazil
Match 6: Switzerland vs Costa Rica
Switzerland needed to win to have a chance of topping the group, but only a draw would suffice to qualify irrespective of the other result. If Serbia lost, they wouldn't even need that! They nearly went behind in the 6th minute when Borges found himself unmarked in the box. His header was fantastically saved at full stretch by Sommer. And the Costa Rican onslaught continued with Colindres hitting the bar from the left wing, with Sommer off his line. It would've been one of the goals of the tournament had it gone in. Switzerland made their opponents pay just after half-time when Dzemaili smashed home from close range unchallenged, after a header down by Embolo. Costa Rica finally got the goal they deserved in the 56th minute via a header from Kendall Watson, Joel Campbell's delivery from the corner provided the assist. Costa Rica took control of the match going ahead, but it was their opponents who had the next chance in the 78th minute. Drmic saw his excellent header come back off the bar. Drmic would score 10 minutes later, as he got onto the end of a low Zakaria cross and slotted into the bottom corner. Costa Rica did not give up however and were awarded a penalty in the third minute of injury time. Bryan Ruiz's penalty hit the bar but the ball ricocheted off Sommer's back and into the net. The scores were tied and there was barely time to get going again and 2-2 is how it ended. Switzerland were through to the Knockouts as the second placed team in the group.
Group F
Match 5: Mexico vs Sweden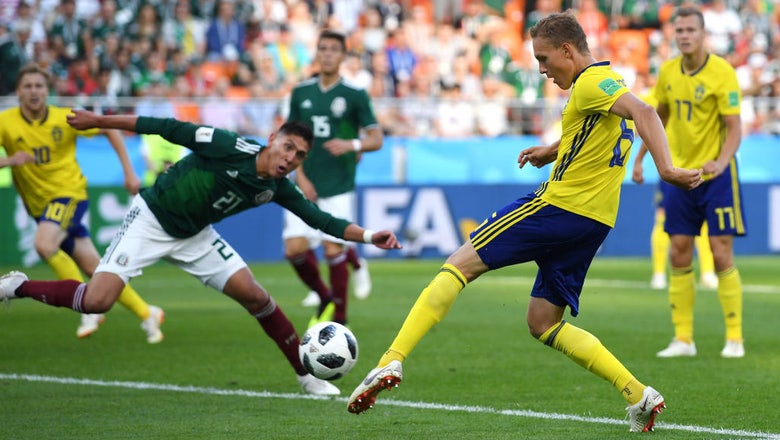 All eyes were on Sweden to see if they could keep the pressure up on Germany in the battle for the qualification from the group. The Mexicans themselves were not assured of a place in the next round yet, but only needed a point to progress. Mexico had a glorious chance to take the lead in the 17th minute, but Layun put his effort wide of the post from just inside the penalty box. Sweden themselves nearly converted from a corner but Ochoa saved excellently to keep the scores level. The Swedes came alive in the second half and ripped Mexico to shreds. They took the in the 50th minute as Augustinsson volleyed home after Claesson had sliced his initial shot. Sweden were awarded a penalty just after the hour mark. Captain Granqvist stepped up once again and doubled his country's lead. Mexico were now in trouble in terms of goal difference as Sweden just gone past them. A one goal win for Germany in the other game would be enough. Things went from bad to worse for the Mexicans as Alvarez's attempted clearance from a long throw-in rebounded back off his standing leg and into his own net. Sweden had secured their path to the next round but it was a nervy wait for Mexico to find out the result from the other match. After having played so well in their opening two games, the possibility of the latter's elimination was still quite high.
Final Score: Mexico 0 – 3 Sweden
Match 6: South Korea vs Germany
Germany had to better or equal Sweden's result and they would qualify. South Korea themselves were still in with a small chance of going, but would need to win this match and Sweden would need to lose to Mexico, and then goal differences would come in. Germany had the first shaky moment of the game when Neuer dropped a seemingly harmless free-kick in front of his goal, but recovered just in time to punch it away before Son could pounce. Son had another chance five minutes later but blasted well wide from about 12 yards. Hummels displayed neat foot-work to get a shot away after a corner but it was smothered by South Korean goalkeeper Jo Hyun-Woo. Much like their last matches, Germany dominated possession but failed to break down their opponents. Goretzka had a point blank header saved by Jo at the start of the second half. And the near-misses kept coming for the Germans who could not seem to find the target from their attempts. On another day, Mats Hummels could've bagged a hat-trick from the number of headers he sent off target from in and around the six yard box. As it is with such occasions, Germany's misses were punished severely, and they went behind in injury time from a corner, Kim putting the ball into the net. Offside was the originally the decision from the linesman, but it was overruled by VAR which clearly showed that the last touch had come off Kroos and not a Korean player, so it could not be offside. Germany were heading out. This was confirmed, if any more was needed as an advanced Neuer was dispossessed in the Korean half. Ju Se-Jong launched a long ball which Son ran onto, and with no defender in sight, scored the easiest goal of the tournament. VAR was once again referred for offside but the goal stood. The world champions were bowing out and this result meant that they ended up last in their group! This was also the first time they had been beaten by an Asian opponent at the World Cup. Football truly is amazing!
Final Score: South Korea 2 – 0 Germany
Previews
Group G
Match 5: England vs Belgium
With the qualifiers from this group already decided, and both these teams having done so, the question now remains as to who will top the group. However, given events in other groups, the runner-up of the group will have an easier passage in the Knockouts. Will it really become a game of 'After you"? Both teams are likely to make changes and perhaps our best hope of seeing a competitive fixture is for those coming into the team to make a claim for themselves going ahead. Lukaku will be a big miss for Belgium, but will England be brave enough to try to want to win the group? I'm on the fence for this and predict a dull affair and a draw. A draw would mean both teams would be locked on same points, same goal difference and same goal scored, and even on head-to-head. The decision would then go to fair play with whoever has collected the fewer number of cards coming out on top. England currently have two while Belgium trail here with three. Hopefully, this will not be the deciding factor and my prediction will be proved wrong.
Prediction: England 0 – 0 Belgium
Match 6: Panama vs Tunisia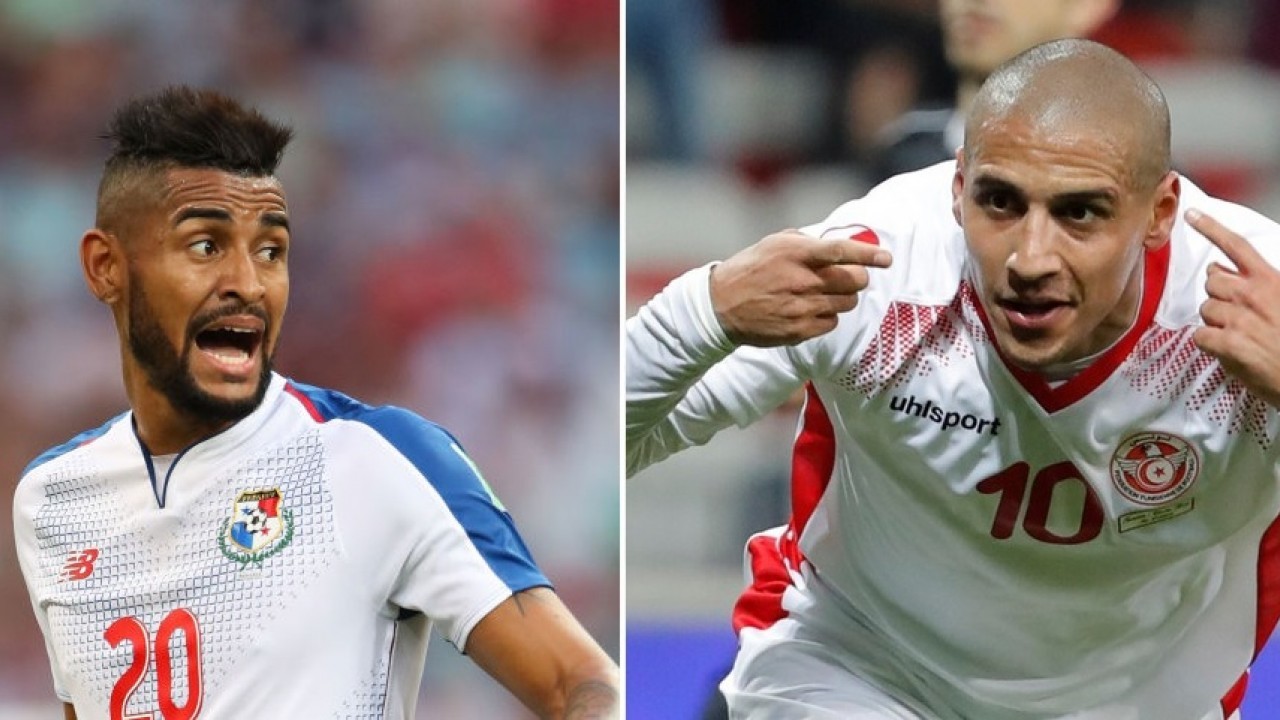 Panama rejoiced scoring a goal against England and they'll hope to add to their tally in this match for pride. On paper, Tunisia should be too strong for the minnows, but as we've seen repeatedly in this tournament, football is not played on paper. However, the North African nation should win, Panama have to overcome suspensions too. Tunisia have fared decently in the tournament but the competition has just been too strong. I predict them to bow out with a win.
Prediction: Panama 0 – 2 Tunisia
Group H
Match 5: Japan vs Poland
Poland have surprisingly been eliminated but they will want to exit the tournament on a high. This could prove bad news for Japan who are very much in the hunt to qualify. The Japanese need a point to qualify, whatever be the result of the other match. They can lose and yet still go through if Colombia lose. If Colombia win or draw, it will come down to goal difference, provided Japan themselves lose. The Japanese have showed incredible fighting spirit in the tournament, exhibited brightly in their last game against Senegal where they came back from a goal down twice to draw. Poland have been extremely disappointing, losing both their games when they were arguably the favourites to qualify from this group. Their quest at some redemption might be bad news for Japan, and I'm predicting them to win this.
Prediction: Japan 1 – 3 Poland
Match 6: Senegal vs Colombia
Whoever wins this game qualifies, no questions. Colombia need at least a draw to have a chance. Senegal need just a point to confirm qualification. This match has the potential to become one of the matches of the tournament so far. Both teams have shown attacking intent and have scored goals. Colombia came back well from losing to Japan in their first game, by defeating and knocking out Poland in their last match. Senegal did the same to Poland, and had twice taken the lead against Japan before settling for a draw. A very difficult match to call, I can't help but get the feeling that the momentum is with Colombia from their last game. James Rodriguez back in the side was a huge boost for them in the last game, and he could prove vital once again. I will predict a narrow win for the South Americans, but both teams will qualify regardless, Senegal by goal difference over Japan.
Prediction: Senegal 1 – 2 Colombia