The Knockout rounds of the 2018 World Cup begin from and we have a cracking set of matches lined up on the first day itself. So far we've seen just one of the big guns, Germany, being eliminated from the tournament, although a couple of others have looked shaky. The Group stage was a delight to watch and let's hope that the Round of 16 plays out along the same lines.
In this article, I will preview the first four matches of the Round of 16, i.e. the matches to be played on Saturday and Sunday.
Match 1: France vs Argentina
Two teams who were seen as possible final opponents meet in the Round of 16. Argentina barely made it through the Group stages, with a necessary win in their last group game against Nigeria. France haven't been troubled as of yet, but they haven't looked their fluent best either. Two narrow wins and a goalless draw haven't caught the imagination of the public. Argentina looked a better unit, especially in midfield, after the personnel changes that were made in their last group game. Ever Banega made a huge difference to their link-up and build up play, also providing the assist for the first goal. One wonders why in a team so lacking creativity at the moment, a player like Dybala is kept on the bench, even when they desperately needed a late goal against Nigeria. The goal did come from an unlikely source, but some of the managerial decisions have been baffling as far as Argentina are concerned. France, for their part will be hoping to keep their momentum going. They will not care what the score-line reads as long as they get through. The prolific French forward line of Griezman, Giroud, Mbappe, Dembele, and the likes have not yet fired, but with the talent they have at hand, it will only take a moment for them to spring to life. The French themselves can be accused of playing players out of position, with Matuidi's use as a winger of particular curiosity. Such a match between teams is too close to call, with this being the Knockout round on top of it. The French look to have the advantage on paper as well as on form, but it will take just a moment or two of magic from Argentina's magician to change all that. I'll still go with a narrow French win. A lot depends on which Argentina team shows up in this game.
Prediction: France 2 – 1 Argentina
Match 2: Uruguay vs Portugal
Super Saturday's late kick-off sees two more equally matched teams square off for a place in the Quarter Finals. Uruguay have been as miserly as they come, conceding no goals and winning all three games in the Group. They come up against a determined, if sometimes shaky Portugal, who've done just enough in their group to see of the challenge of a couple of plucky underdogs. Portugal hung on late in the game in their last group game against Iran, where a late goal conceded would've meant them eliminated. Their talisman Ronaldo found form in the opening couple of games but his intensity has dropped off recently. Uruguay on the other hand have been playing some lucid football and their defence have been rock-solid. Portugal's defence need to be wary of the double threat of Suarez and Cavani up front for Uruguay, both of whom have now got on the scoresheet in this tournament. There are a number of interesting clashes all across the pitch with those of Ronaldo vs Godin and Suarez vs Pepe possibly becoming crucial for both teams. Recent performances in similar tournaments would give the edge to Portugal in such a situation, but I will go against the grain and predict a win for Uruguay, with Suarez and Cavani being too hot to handle for the Portuguese defence.
Prediction: Uruguay 2 – 1 Portugal
Match 3: Spain vs Russia
Spain have been uncharacteristically leaky in their defence, letting in 5 goals in the Group stage. They are still unbeaten, but managed to win only one of their three games. Russia started the tournament in superb fashion with two comfortable victories. They were brought back down to earth against Uruguay, suffering a 0-3 drubbing. Spain should have too much firepower in this game to get through, but need to be careful at the back against the Russian attack, who have looked menacing. Diego Costa and the impressive Isco are my picks for players who will be Spain's main protagonists, with Costa especially always up and feisty for situations such as these. Russia will be hoping for more of the same from Golovin and Cheryshev, who've been revelations in this tournament. Spain should take this one comfortably, and it could become a repeat of the Uruguayan nightmare for Russia.
Prediction: Spain 3 – 0 Russia
Match 4: Croatia vs Denmark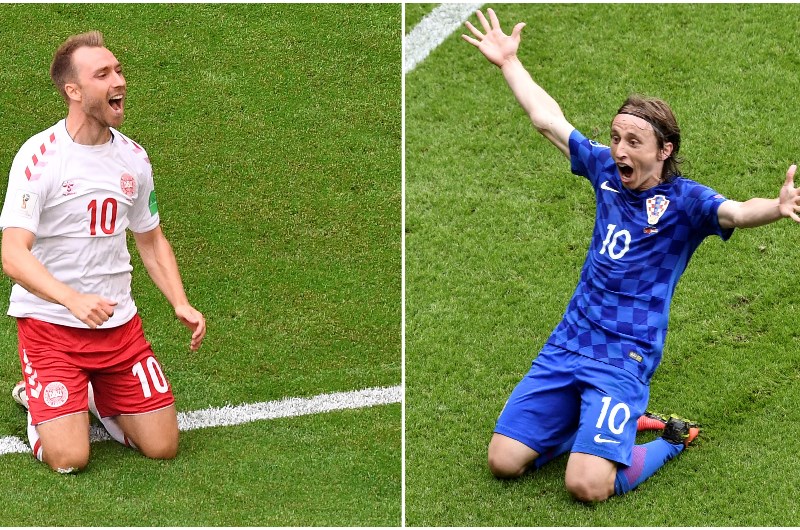 Croatia have looked the best team of the tournament, winning all three games, which included the scalp of mighty Argentina and a win against Iceland despite resting nine players! They will be favourites going into this game, and now have become a dark-horse for a very deep run into the tournament. Denmark rode their luck against Peru in the opening game to come out with a win, and draws in their remaining fixtures were enough to see them qualify. They rely heavily on Eriksen for their creativity and that will remain the same in this match. For me, it would be a surprise to see Denmark overcome Croatia in this game, but you can never count them out completely. Croatia's midfield of Modric, Rakitic and Brozovic, and maybe Kovacic is likely to be the difference in this game. Denmark will need to be at their best and then some to try to control the midfield, or at least be solid at the back. I will go for a Croatia win, as I fail to see Denmark breaking down the solid backline, and there is just too much quality for the latter to keep out for 90 minutes.
Prediction: Croatia 2 – 0 Denmark