The big day is here. 63 matches have been played and have led us to this moment. Two teams have made it to the final, one trying to repeat their day of glory from 20 years ago, while the other are here for the first time and are trying to write their name in football history! France and England came through contrasting Semi Final wins against Belgium and England respectively, and will later today go head to head for the Football World Cup crown. Talking about the beaten Semi Finalists, Belgium beat England last night in the 3rd place playoff, which turned out to be a comfortable victory in the end. The English looked out of sorts and Belgium were fully in control from start to finish.
Path to Final
France
Group Match 1: France 2 – 1 Australia
Group Match 2: France 1 – 0 Peru
Group Match 3: France 0 – 0 Denmark
Round of 16: France 4 – 3 Argentina
Quarter Final: France 2 – 0 Uruguay
Semi Final: France 1 – 0 Belgium
France did not need to get to get out of second gear in the Group Stage and topped their group without any difficulty. They do have the distinction of playing out the only 0-0 draw of the entire tournament, in their third group game against Denmark. France came alive when they needed to against Argentina, coming back from 2-1 down to eventually win 4-3. Kylian Mbappe announced himself on the World stage in this game. Their Quarter Final encounter was supposed to be a tricky game, but after a goalkeeping howler saw them go two goals in front early in the second half, Uruguay seemed to lose heart and couldn't assert themselves any further in the game. France started off a litlle shakily against Belgium, especially in defence, and perhaps for the first time in this World Cup. They came into their own as the match went on and for the umpteenth time in the tournament did just enough to win, without really hitting top gear.
Croatia
Group Match 1: Croatia 2 – 0 Nigeria
Group Match 2: Croatia 3 – 0 Argentina
Group Match 4: Croatia 2 – 1 Iceland
Round of 16: Croatia 1 – 1 Denmark (Croatia won 3 – 2 on penalties)
Quarter Final: Croatia 1 – 1 Russia (Croatia won 4 – 3 on penalties)
Semi Final: Croatia 2 – 1 England (after extra time)
Croatia came through their group with a perfect record of three wins including a sensational 3-0 drubbing of the mighty Argentina. They rested eight players for their final group game and still won against Iceland. Their Round of 16 game was fraught with difficulties as Denamrk nearly pulled off a win, and definitely had enough chances to do so. Modric even missed a penalty in extra time but Subasic's heroics saved their day. They had to rely on a penalty shootout once again in the Quarter Final against Russia, after coming back from a goal down in the game. They then led in extra time only to be brought back to parity just five minutes from the end of the game. This time, they had help from a couple of poor penalties from the Russians. Croatia were on the back-foot from early on in their Semi Final against England, going behind after just five minutes. They did not give up however, and dominated the game from the second half onwards, equalizing in the second half and then scoring the winning goal in second half of extra time; Mario Mandzukic writing his name into folklore.
Key Match-ups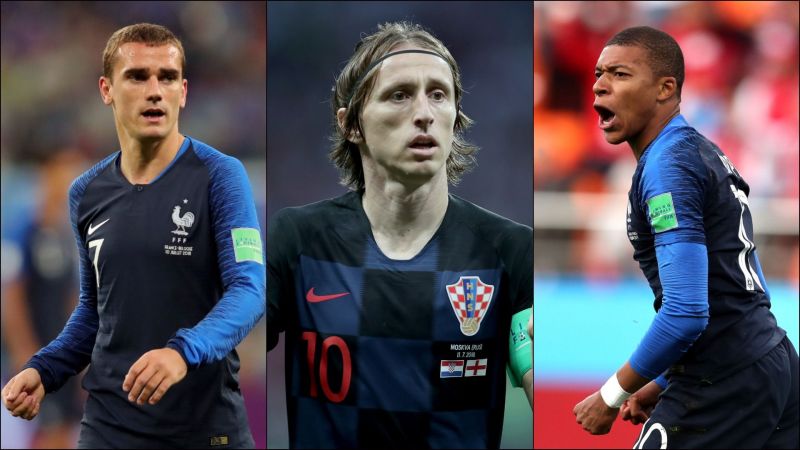 Kante and Pogba against Modric and Rakitic
The creator and the destroyer for France against a couple of complete midfielders for Croatia. The Croatian pair have been immense in this tournament, with their form peaking in the annihilation of Argentina. Ever since, they've still kept their game high and one has covered for the other in the rare occasions when one has been down. In their semi-final Modric looked off colour for the first hour of the game and it was Rakitic who took up the mantle of controlling the midfield. Once Modric got going again, Rakitic played the perfect foil, letting his midfield partner run at the English defense and into more attacking positions, marshalling the midfield behind. For France, N'Golo Kante has been supreme in his outings so far. The constant running, the timely interceptions and the runs into the opposition box are all a part of his game par excellence. He has allowed Pogba to play a freer role, and the letter has definitely looked better in the process. Pogba for his own part has looked good in patches, and has contributed both offensively and defensively. His defensive contributions against Belgium were particularly of note, with a lot of clearing headers being made by him. The midfield battle will set the tone of this game, with both teams relying on their respective pairs to feed their forward line.
Griezmann, Mbappe and Giroud against Lovren and Vida
On paper, this looks like a one way contest, with the French line possessing huge potential to unlock the Croatian defence. However, the Croatian central defensive pairing have had an excellent tournament and will not go down without a fight. In the last six weeks, Lovren has faced the like of Ronaldo, Messi, Eriksen and Kane, and kept them all in check. Vida came into the limelight with his brilliant defending against Argentina and has been rock solid at the back even since. While Lovren started a little shakily in the Semi Final, it was Vida who kept a cool head and helped out his defensive partner. As the game went on, the complemented each other perfectly and kept out an ineffective English attack with relative ease. Coming to the French forward line, whenever they've hit full gear, as during the 10 minute spell where they scored three goals against Argentina in the second half, they've been unplayable. Mbappe's speed is out of this world and it is almost impossible for defenders to stop him without fouling him in ful flow. Griezmann has played the role of the more composed centre forward, being assured on the ball and in distribution. The most underrated part of the trio is Olivier Giroud, who looks to be destined to play second fiddle to more flamboyant teammates wherever he plays. He has played as a target man in this team and is a vital cog in the build-up play in and around the opposition penalty box. He was off colour in the Semi Final against England, leading to more criticism, but they were surely unjustified.
Rebic against Hernandez
Ante Rebic has perhaps been the find of the tournament for the Croatians. He has been in good form and has been involved in multiple goals. Hernandez started off the tournament taking up more advanced positions on the left flank. He has since been more conservative and isn't going up as much but the inclination remains. With Rebic's capabilities and Hernandez's inclination to take, it remains to be seen whether the Croatian right winger can take advantage of the space that the French left back might leave behind.
Perisic against Pavard
Ivan Perisic was not in very good form in the early matches of the tournament, often proving ineffective on the left wing, with there even being calls to drop him for someone else. However, in the past couple of matches, he has arguably been Croatia's best player on the pitch, and was spectacular in the win against England. He was unlucky in both matches not to have scored more, with two of his shots coming back off the bar with the 'keeper well beaten. Pavard has been another find of the tournament, and his good performances have already earned him a move to Bayern Munich for next seaosn. This could turn into a pivotal battle in this game, with Pavard needing to stop Perisic delivering his incisive crosses and mark his runs infield.
The Verdict
Both teams come into this game with an unbeaten record, albeit by vastly different circumstances. France should have too much firepower in this game to stave off the Croatian challenge and win their second World Cup. The Croatians have played 120+ minutes in all three of their Knockout matches. While they did not look tired against England, fatigue is bound to catch with them eventually. The French have not had to get into top gear yet, except for maybe those 10 minutes against Argentina mentioned before. They have done just enough to get past all their opponents so far, and I do believe they'll do so again. For Croatia, this has been a dream journey, and they have already outdone their heroes from 1998, but just like in that tournament, it looks like France will be their undoing once again.
Prediction: France 2 – 1 Croatia