Just eight teams remain and you won't find many who would've predicted this particular Quarter Final line-up! After an exhilarating Round of 16, where there was either an upset or a talking point every day, we head into the next round hoping for more of the same.
In this article, I will preview the four Quarter Final matches.
Quarter Final 1: Uruguay vs France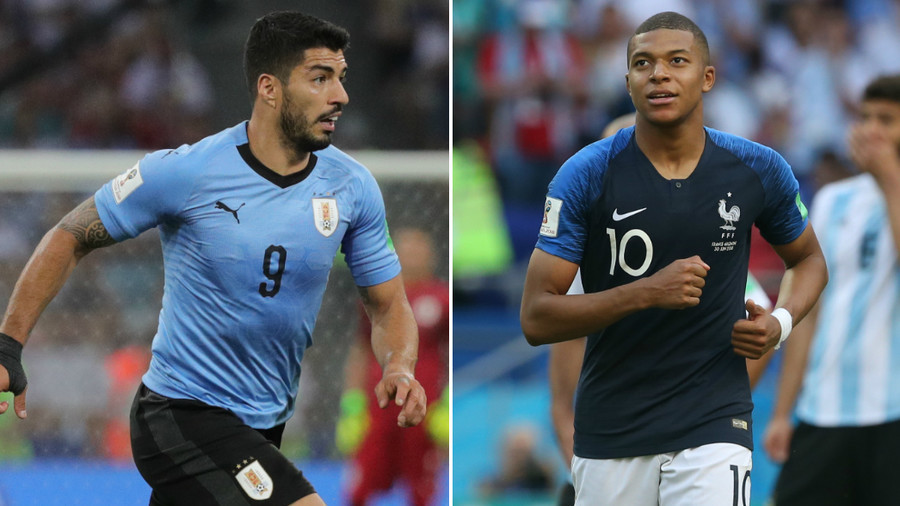 Both teams played exceedingly well to progress from the Round of 16 against strong opposition. France were powered to a win over Argentina by a rampaging Mbappe and a wonder-strike from Pavard. They ripped Argentina to shreds when attacking but their defense did leave something to be desired, as they conceded three goals. Uruguay where their customary solid self against Portugal in the previous round, with a momentary lapse from a corner meaning they conceded their first goal of 2018. Edinson Cavani was their hero for the day, with a superb support performance from Suarez. Cavani injured himself in that game and is a major doubt for this one. His absence would be a huge blow for the Uruguayans, as their forward duo seem to have an almost telepathic relationship on the pitch. Without Cavani, one can expect Uruguay to sit back further and try to soak up the French attacks, and rely on counter-attacks and set pieces for the breakthrough. France themselves will be without Matuidi, which could see Griezman pushed to the left, with possibly Fekir coming in centrally. With Cavani in the team, I might have leaned towards a Uruguay smash and grab, and will keep to that prediction if the forward does pass fit at the last moment. As things stand, I predict a narrow Frane win by the odd goal but you can be sure Uruguay will not give up without a fight.
Prediction: Uruguay 1 – 2 France
Quarter Final 2: Brazil vs Belgium
This match has the potential to be the match of the round. Brazil have been swatting away opponents without getting into top gear yet. There has been as much discussion about their victories as about Neymar's antics. The Brazilian forward needs to be careful, otherwise his performances will be lost in a wave of criticism about his play-acting. Belgium came back from the brink of elimination against Japan, recovering from being two goals down in the second to grabbing a last gasp winner to win 3-2! Belgium's defense was unexpectedly loose in that game and they'll need to shore themselves up to keep Brazil out. Brazil will be without the suspended Casemiro and also Danilo, who was injured in training and will miss the rest of the tournament. Marcelo will likely come back as a like for like replacement, having sat out the last game. This match is too close to call as a neutral, Belgium have the firepower to trouble Brazil but what they lack is experience at this stage of the tournament, which is often an even bigger influence on how teams perform under duress. I will go for another narrow victory, this time to Brazil, at the end of a highly competitive fixture.
Prediction: Brazil 2 – 1 Belgium
Most websites dedicated to betting on sports has Brazil entering to the quarterfinal with Belgium as a -175 favorite to advance (vs +155 for Belgium) largely because of their stingy defense, which has conceded just once in four matches and recorded three straight clean sheets. It's very possible that the Belgian attack (which is the highest-scoring in the tournament) breaks through, since Brazil will be without the suspended Casemiro. But even if that's the case, Brazil has the firepower to answer. Though Neymar, Philippe Coutinho and company have only managed seven goals so far (vs Belgium's 12), Brazil leads the World Cup in both shots and shots on target and is liable to explode at any time, especially against Belgium's suspect backline."
Quarter Final 3: Sweden vs England
Sweden have done extremely well in getting this far in the tournament. They dominated the Swiss in their last game and were unlucky not to have won more comprehensively. England broke their penalty shootout hoodoo in the previous game against Colombia, overcoming them after having given up a late equalizer. The English now believe they have a clear path to the final, and looking at the lower half of the draw, one cannot argue with this fact. However, they need to take things one game at a time, and Sweden will not be pushovers. The Swedes have only lost one game, and that too to a last minute moment of genius against Germany. They dispatched Mexico, and are capable of hurting better sides on their day. England will likely be without Vardy's services who was injured in the last game. A lot of responsibility will once fall on Kane's shoulders, who will definitely be pumped up to seal his Golden Boot credentials. This is another game which will be close but England should just have enough quality to see off their opponents.
Prediction: Sweden 0 – 1 England
Quarter Final 4: Russia vs Croatia
The hosts have been exemplary hosts and have defied all expectations on the pitch. They came past Spain in the previous round despite barely having the ball for any extended period. They defended as a solid unit and that was the biggest reason of their success, as Spain's meticulous passing failed to find a way through them. Croatia were given a scare by Denmark in their last game, but came through on penalties after an excellent showing by their goalkeeper Subasic. They were excellent in the Group stage but lost some of their intensity last time round. Russia will be hoping for more of the same, having a good forward line to cause trouble. Croatia's trump card will once again have to be the midfield pairing of Modric and Rakitic, who couldn't really get into top in the last game. If they do, Croatia should get back to their Group stage form in this game, and win easily. If they don't once again, Russia are quite capable of springing a surprise and keep their fairy tale going. I somehow can't quite see the latter scenario happening, and predict Croatia to show their class and come through.
Prediction: Russia 0 – 1 Croatia