A day doesn't go by in this World Cup where something out of the ordinary does not happen! Yesterday's matches threw more discussion points, and you guessed, more upsets for us to ponder over.
In this article, I will review Sunday's Round of 16 matches and look to those to be played today.
Reviews
Match 3: Spain vs Russia
Spain dominated possession from the get-go, keeping the ball to themselves and playing in-front of the Russian rear-guard. They were awarded a free-kick in the 10th minute when Nacho was brought down by a high challenge from Zhirkov. The Russian defender was lucky not to see a card. Ramos and Ignashevich tangled at the far post from the delivery, with both pulling each other down, while the ball hit the heels of the Russian defender and went in for an own goal. The pattern of play remained much the same, as Russia failed to get hold of the ball for an extended duration. From a rare forward run, they got a corner in the 40th minute. Gerard Pique inexplicably had his arm up as the ball went past him, and the header from the Russian attacker hit the defender's outstretched hand. The referee had no doubt awarding the penalty despite Ramos's remonstrations protesting the same. Dzyuba made no mistake in converting it, as De Gea guessed the wrong way. The Spanish 'keeper was having an awful tournament, and this was the sixth goal that he had conceded, having just faced seven shots! The whole of the second half was spent with Spain passing the ball around, mostly sideways, and Russia defending tactically and deep and keeping their opponents out. Akinfeev pulled off a double save from first Iniesta and then from Aspas off the rebound and those were the only clear-cut opportunities of the half for either team. The first opportunity in extra-time went to Spain, coming nearly 20 minutes into the extended period. Aspas once again involved, whose shot was blocked by Akinfeev, and Carvajal's follow-up was blocked by Kutepov, who was Russia's Man of the Match performer. No goals in extra time meant penalties. Both teams converted their first two kicks. Koke had his shot saved, hitting it too close to the 'keeper. Russia kept their perfect score till the fourth kick. Aspas needed to score to keep Spain in it. He hit his kick with pace down the middle but Akinfeev's outstretched leg deflected it away from goal. The hosts had won and another pre-tournament favourite were on their way home! A stunning statistic from the game in Spain's more than 1100 passes, as compared to less than 300 for Russia. Just goes to show it's not important how much of the ball a team has, rather what they do with it. The curtains had just come down on Spain's golden generation.
Final Score: Spain 1 – 1 Russia (Russia won 4 – 3 on penalties)
Match 4: Croatia vs Denmark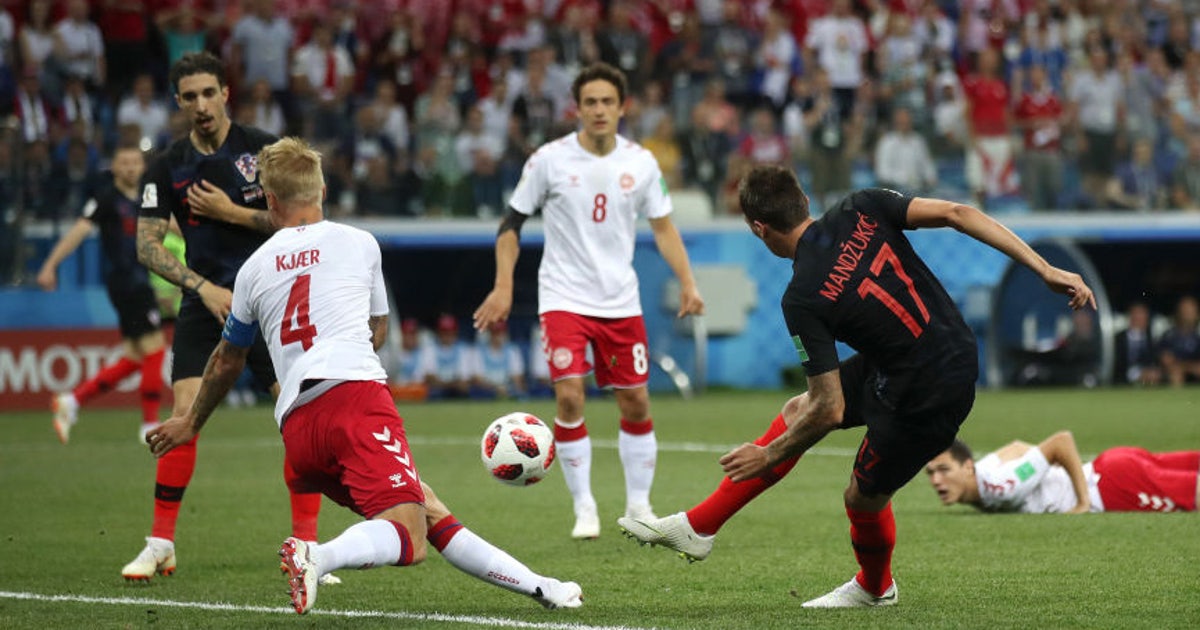 Whoever tuned in to this game 5 minutes late missed a lot of action! Denmark took the lead inside the first minute, after a long throw from Knudsen caused havoc in the Croatia penalty area. Jorgensen, a.k.a Zanka, found the ball at his feet at the far post and his shot on goal squirmed under Subasic and into the goal. Croatia were level less than 3 minutes later. A combination of Rebic and Vrsaljko broke into the Danish penalty box from the left wing. Vrsaljko's cross found a defender whose clearance hit his own player and set up Mandzukic who made no mistake in accepting the gift. Croatia kept coming, and Perisic skied a golden opportunity following two saves from Schmeichel from close quarters just before the half-hour mark. The second half proved to be a game of attrition with neither team able to take the game by the scruff of the neck. The match ended as a tie and we were once again headed to extra time. With 6 minutes left in extra time, Rebic rounded the goalkeeper and was free on goal, when Zanka came in from behind and fouled him to prevent a goal-scoring opportunity. A recent rule change now prevents the referee from sending the defender off in such a situation, so he only received a yellow card. Croatia were awarded a penalty and up stepped Modric to take the spot-kick. As if the drama wasn't enough already, Schmeichel saved brilliantly to his left to deny the Croatian captain. Once again, the result would be decided by a shootout. Eriksen hit the post while Badelj's shot was saved. Not the most auspicious start to the shootout! Both teams converted their net two spot-kicks. The next set of penalties were saved in identical fashion by both goalkeepers, with there being suspicions of both having creeped ahead of their line before the kick was taken, which should've resulted in retakes. Nicolai Jorgensen had his shot saved by Subasic. Rakitic scored his penalty, sending Schmeichel the wrong way, and sent Croatia through to the Quarter Finals, to face Russia.
Final Score: Croatia 1 – 1 Denmark (Croatia won 3 – 2 on penalties)
Previews
Match 5:  Brazil vs Mexico
Brazil topped their group with ease, but it wasn't all plain sailing, as they've failed to hit full stride in the tournament up until now. Mexico started off like a rocket, blitzing Germany in their first game, and then taking care of business against South Korea, but then lost the plot and slumped to a heavy defeat against Sweden. A lot of the good work in the Brazilian team has come midfield maestro Coutinho, and he will remain an important figure in today's game as well. While Mexico do possess the skills to cause Brazil some problems, this will probably be a step too far for them to take. The loss against Sweden have also probably put a stop to their momentum. I expect there to be goals in this game, as Brazil will want to wrap things up early. An upset in this game could really open up the tournament for one of the dark horses to capitalize on! But I don't see that happening and predict Brazil to come out on top in this match.
Prediction: Brazil 3 – 1 Mexico
Match 6: Belgium vs Japan
Belgium should be overwhelming favourites to win this game, especially with the form their forwards have shown in this tournament so far. Provided Lukaku is back, their strike-force is up there with the best in the tournament. They would, however, be foolish to write off Japan, who shown steely resolve to come back and also to hold on in the face of difficulties. Japan would need to display the same pluck that got them points in their first two group games. Belgium have been known to go missing in the Knockout rounds of big tournaments, and Japan can easily harm them on such a day. On the balance of it, I predict Belgium to still have enough to get past Japan, but only just. This should be a competitive fixture.
Prediction: Belgium 2 – 1 Japan