There are times when you watch football and go, 'Wow! This is why I love this game'. This World Cup is throwing up such moments every day! I review the two matches played yesterday in the Round of 16, including a game for the ages between Belgium and Japan.
I will also preview tonight's two fixtures in this article.
Reviews
Match 5: Brazil vs Mexico
With how things have been going for favourites, Brazil were next in the firing line to be on the receiving end of an upset. And it was Mexico who started off on the front foot getting into the Brazilian box early in the game. Good defending kept them out. Brazil got into the game more as it went on. Ochoa was once again on top form, pulling off brilliant save from Neymar in the 25th minute. The Mexico goalkeeper kept a few more shots out in the first half with Brazil very much on top. Mexico, on their part were nit sitting back, but tried to penetrate the Brazilian defense without much result. Hirving Lozano, once again, showed his potential, displaying some impressive skill and intelligence. Early in the second half, Mexico had a good chance as Guardado picked up a ball in his own half, ran at the Brazilian, who kept backing away and took a curling effort which didn't find the target. Just a few minutes later, Brazil finally got the breakthrough they were threatening. Neymar came in-field form the left and back-heeled a pass to Willian who prodded the ball past his marker, crossed it across goal. The ball evaded a defender, Ochoa's attempted save and Jesus's outstretched leg, but Neymar touched it in at the far post. It was a great team move, with Willian exceptionally good with the assist. Mexico came close on the hour mark, with Alisson tipping over a shot on target from distance. It was much of the same following the goal, as Brazil looked more threatening but Mexico were not going down without a fight. The game was sealed in injury time when substitute Firmino tapped in from a couple of yards after more good work from Neymar. The latter's shot was saved by the 'keeper's outstretched leg, but the loose ball found Firmino who wouldn't score an easier goal in his life. Mexico's wretched record against Brazil continued, but they were excellent all through the tournament, playing attacking football throughout. This was a step too far for them, while Brazil go through to the Quarter Final.
Final Score: Brazil 2 – 0 Mexico
Match 6: Belgium vs Japan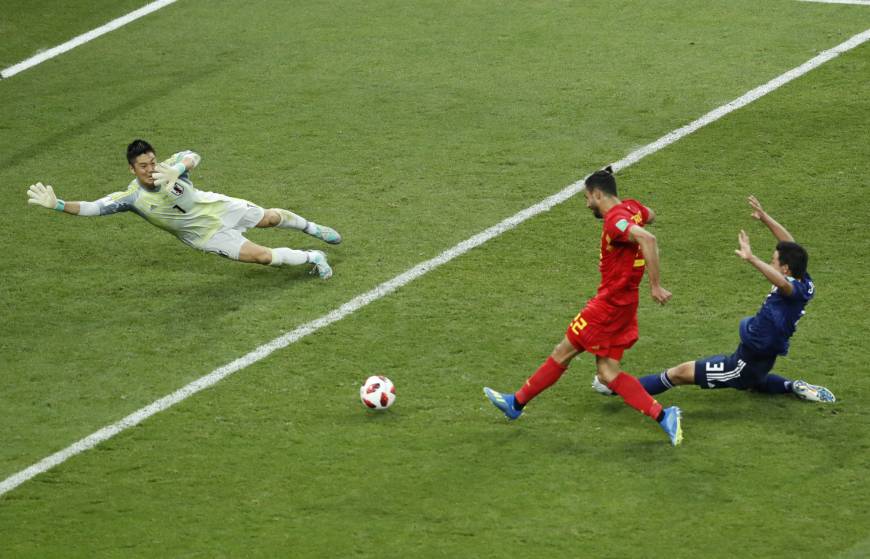 Japan came out with a game-plan of blocking off the supply to the Belgian forward line and were very successful in doing so. They also kept Kevin de Bruyne quiet in the first half, while outnumbering Lukaku whenever he got a touch in the penalty area. Most of Belgium's efforts on goal were reduced to efforts from range which did not trouble Kawashima much. Japan had a great chance of when Osako, who was free at the near post, was played in by Kagawa. The Japanese striker failed to control the ball, but Courtois nearly made a mess of it by letting it go through his legs, and only picking it up on the second attempt. Japan came into the game more after this. The next big chance came for Kompany who got onto the end the end of a free-kick at the far post but actually diverted the ball away from goal. Both teams went into the break well matched, with Japan having frustrated the Belgian attackers, allowing them no time or space to express themselves. Belgium had a great chance to go ahead early in the second half, when a quick break saw Hazard hit the post with his first time effort from the edge of the box, and then he fluffed the rebound. Just a minute later, Japan went on a lightning break of their own. Shibasaki found Haraguchi with a through ball which just evaded Vertonghen. The Japanese winger made no mistake in beating Courtois. Japan increased their lead four minutes later, when Inui picked up a pass from Kagawa and fired from about 25 yards out. Courtois had no chance as the ball nestled into the bottom corner. The World Cup of upsets was once again living up to its name, and Belgium were once again falling apart in the Knockout round of an international tournament. Belgium made a couple of substitutions in the 65th minute which had the viewers baffled. Instead of bringing on attackers being two goals down, Roberto Martinez brought on Fellaini and Chadli to replace Mertens and Carrasco. A few minutes after the substitutions, Verthongen made an innocuous looking header from the left edge of the penalty area. The ball looped over the Japanese goal-keeper and went in. The Belgian defender didn't look like he meant to shoot on goal, but they all count. Just 5 minutes later, Belgium were level. Hazard delivered a pin-point cross from the left, which was met by the highest jumping Fellaini, and the goal-keeper had no chance to get to that. Belgium remained the more aggressive side for the rest of the game, and had a couple of efforts well saved by the goal-keeper. In the 93rd minute, Keisuke Honda's long range free-kick was palmed away by Courtois. It was a good effort but it would take something special to beat the goalkeeper from 40 yards. From the resulting corner, Japan went for goal, but Belgium picked up the ball, and in a lightning counter-attack which covered the distance of the pitch, scored their third. De Bruyne found Meunier on the right wing in the build-up, whose cross was well dummied by Lukaku. Chadli ran onto the ball and scored from about 8 yards. The two substitutes had scored and Belgium had pulled off best comeback in a World Cup game for a long time. In fact, this is the only instance of a team coming back to winning a match in regulation time, having trailed by two goals in the second half in a World Cup! Like I've already mentioned, 'Wow! This is why I love this game'. Japan were incredibly unlucky to end up on the losing team in this match, and paid for their naivety in protecting their lead and closing out the match. They did not lose their class, as both the team and the supporters cleaned up the dressing room and the stands, respectively, before they left, despite suffering heart-break just moments earlier. Belgium's reward was a Quarter Final against Brazil.
Final Score: Belgium 3 – 2 Japan
Previews
Match 8: Sweden vs Switzerland
Sweden were in red hot form when they beat Mexico in their final group game, thereby winning the group and avoiding Brazil. They will fancy their chances of getting past Switzerland, who found the going tough against Costa Rica in their previous match. Switzerland have the better recent record in these tournaments, and will probably be slight favourites in this match for the same. Sweden won't be pushovers, and I can see this game being very evenly matched in all departments. Xherdan Shaqiri will be an important factor in this match, and on a good day, he could prove to the difference. I'll predict a draw in this game, and Switzerland to edge it either in extra time on or on penalties. It'll be touch and go.
Prediction: Sweden 1 – 1 Switzerland (Switzerland to progress)
Match 9: Colombia vs England
England's World Cup campaign has been filled with optimism so far. They have overcome some of their previous demons in firstly winning their tricky opening fixture against a stubborn Tunisia and then easily dispatching a weak opponent in Panama. Even the loss against Belgium hasn't dampened their sails. It wasn't a fair reflection anyway, with both teams having rested players to be fresh and fit for the Knockouts. They now gear up for their first Knockout game in a World Cup for eight years, having failed to get past the group stages last time around. Colombia did well to come back from a disappointing defeat against Japan in their first game, and won their next two fixtures against Poland, who they ripped apart, and Senegal, which knocked the latter out. Their big headache is the fitness of James Rodriguez who showed glimpses of his brilliance against Poland in the only full game that he has played. The English defense is yet to be fully tested against quality opposition, and this will be a big test for their newly formed backline. If they can absorb this challenge, we can look at this team, devoid of the huge egos which plagued them in the past, going on to perhaps play in the final. This is a huge match for Colombia as well, who know this tournament could become a hugely important landmark in their football history. Both teams know that easier opposition awaits in the next round, and they should be up for the game. I can see the Colombian forward line causing trouble for the English defense and thus am predicting a narrow win for the South Americans.
Prediction: Colombia 2 – 1 England