And then there were four! The World Cup is down to four teams and you would've done very well to have guessed these four teams as the final four in the tournament. All four teams have a common theme, although they have individual stars, they've relied more on teamwork than individual brilliance for most of the past month to get this far. In fact, this World Cup has shown how football truly is a team sport.
In this article, I preview the semi-finals and predict what I think will happen. My prediction game hasn't been strong so far, although I did get three out of four results correct in the Quarter Final, with Brazil the only team that broke my perfect streak. So feel free to pay no heed to them at all!
Semi Final 1: France vs Belgium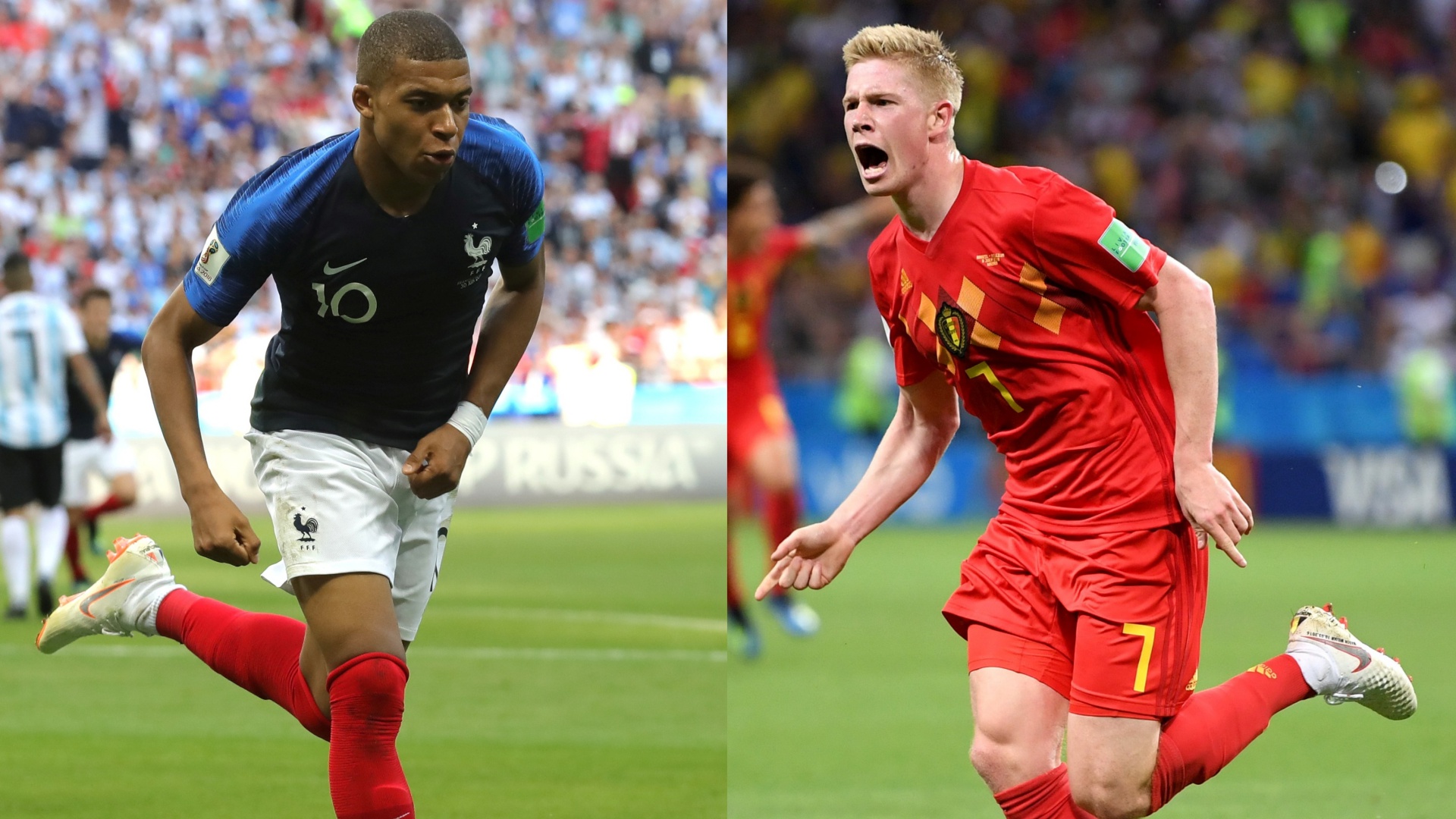 France were in control for most of their Quarter Final and always looked like winning the game. Uruguay never quite got going, visibly missing the injured Cavani, and seemed to get deflated once the second French goal went in. Belgium pulled off perhaps the only 'upset' of the Quarter Final, riding their luck to some extent in the early exchanges, but then putting on a perfect tactical and attacking display to brush off Brazil's challenge. This semi-final promises to be an all-out attacking affair, or so it so seems from past displays, and one hopes it lives up to that reputation. Both teams set up with an attacking intent for most of their matches, and have forward lines to envy. On the French side is the trio of Griezman, Giroud and Mbappe, who are a mixture of Poacher, Target Man and a forward who loves to run at the defense. On the Belgian side is another fearsome trio, that of Lukaku, Eden Hazard and De Bruyne, who were in scintillating form against Brazil. France have looked more stable defensively, but Belgium have truckloads of experience on their side. The presence of Kompany throughout the tournament has been a huge plus for them. However, one needs to keep an eye out for how they handle the quickness of the French forward line, especially Mbappe. Matuidi will be back for the French after being suspended for the Quarter Final and should find his way back into the starting line-up. The midfield pairing of Witsel and Fellaini were the perfect destroyers for Belgium in the last game, but one wonders whether both will retain their place for this game, given the difference in setup of their opponents. This game looks like it'll be a battle of attack versus defense at both ends, with the midfield likely to take a back-seat. Coming to my prediction, it is extremely difficult for me to differentiate between the two teams. My hunch is that Belgium will just sneak through a high scoring affair, with France's lack of experience proving their downfall in such a high stakes encounter.
Prediction: France 2 – 3 Belgium
Semi Final 2: Croatia vs England
Not many would've picked these two nations to contest the second semi-final. Both teams have proved their doubters wrong and had an excellent tournament so far. Croatia haven't quite reached their level when they beat Argentina in the succeeding matches, needing penalties in both their Knockout games to progress. However, the team spirit and the brilliance of Modric have got them this far and they've absolutely deserved it. England have had an easier progress to this stage, but a team can only beat what's in front of them, and the English have done so with confidence, even laying to rest their penalty shootout voodoo in the Round of 16. They came past Sweden with a comfortable two goal victory in the Quarter Final, but a lot of the credit has to go to their goalkeeper Pickford, who kept his team's clean sheet intact with spectacular saves on more than one occasion. Harry Kane looks likely to win the Golden Boot now and he will be extra motivated to add to his six goals at the World Cup. He will be up against the Croatian central defensive pairing of Lovren and Vida and that matchup could have a huge impact on the outcome of this game. The English defense has not really been tested by a good attacking unit so far, but handling the likes of Mandzukic, Rebic, Perisic, Kramaric, Modric and Rakitic will be a challenge. If the English are able to control the midfield, with Henderson likely to be key in this aspect, they should get the upper hand in this match. However, the English defenders who are likely to start this game, with the exception of Maguire, have been shaky before, not necessarily in this tournament, and with their first real challenge coming this deep into the tournament, could prove to be the weak link. For this reason in particular, I will pick this Croatian team to go one better than their heroes of 1998 and win this game.
Prediction: Croatia 2 – 1 England