Taking Care of Trent
Taking care of Trent:
 Liverpool's young gem is a talent that we cannot afford to squander
We all enjoyed the video that emerged last week of Liverpool's most talented youngster comfortably out classing his senior England colleagues in some training ground showboating.  The ease and confidence at which Trent was able to showcase his ability was yet another pleasant reminder of just how gifted and important he is to our future ambitions.
The teenage right back has come on massively over the past two years and is now an integral first team player.  He looks like he has the natural ability and confidence to really become a star, and the fact he's a Scouser is just another positive.  It is going to be crucial then this season, to ensure that the club is set up to get the most out of him.  If Klopp and his team get this right, we could be privileged to witness the beginning of something very special indeed.
Game time
If he starts at Spurs this Saturday lunchtime, Trent will have already completed a half century of games for his hometown club.  However, despite this landmark, one of the more pleasing things thus far in his Liverpool career has been his slow introduction to the first team.  This is something we can attribute to the boss.  Klopp is known to be meticulous when it comes to blooding new players, even if they are older and more experienced.
The West Derby lad certainly benefited last season from Clyne and Gomez's misfortune with injury.  However, this campaign, he's there on merit, having established himself in the first team at a staggering pace.  His maturity in the Champions League run last season was really encouraging and he was one of the better players on pitch for us during that horrible first half in Kiev.
However, this season it will be vital to manage his game time properly.  Yes he is young and full of energy, but we cannot risk over playing the lad and burning him out.  Injuries have not been kind to us with our previous young full backs, and with the intensity of Klopp's game it does increase the risk of players picking up strains and knocks.
There are quality options in the team, who can be used to somewhat lighten the load on Trent, as he continues to develop.  Clyne and Fabinho can be utilized  without too much disruption to the quality and flow of the first team.  Gomez can also slot in if numbers become an issue, but you'd like to think he's done his apprentice years at full back already.
It's more than just physical though, the need to manage Trent's game time.  Yes he is looking red hot right now, but with so much at stake and Liverpool's margin for error almost none existent to this season, any mistake is likely to be blown out of all real proportion.  The teenager is yet to feel any negative vibes, but if the he's at fault or switches off, as we saw away at Roma last season, for example, the boo boys could be out in force.  Yes he'll be insulated as a local lad, but if his confidence is eroded too much, it could be a good thing to have quality alternatives already in the ranks.
Up the field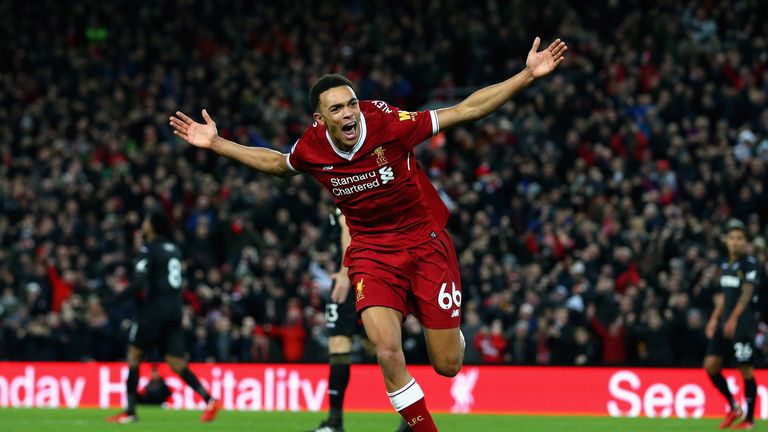 For years, many of us winced as Glen Johnson's disastrous defending was justified by some fans because he was "boss going forward", those nine goals in six years were a great help to be fair.  Alexander-Arnold though is truly a different class of footballer to Mr Johnson.  He is genuinely excellent going forward and a solid enough defender to get back and marshal his flank with competence. His final ball is, although still wayward at times, often right on the money, showing a real instinct and perhaps a transferable skill for further up the field.
At the moment the overwhelming evidence is that Klopp will leave his position alone; rightly so, if it's not broke and all that.  However, without Keita in the side at Leicester City, that second three looked a little flat and stopped their crucial flow of balls to the front three.  You cannot seriously question the work rate of Gini, Jimmy and Henderson, but that jolt of energy is required for the way we play, especially when teams are sat deep.  Emre Can was able to offer it, when he wasn't flat hunting in Turin, Keita looks like he was born with it, but Trent could actually offer that second three a real injection of energy and drive.
One of the earliest things we noticed about him was his wonderful cockiness and desire to take people on.  His ability to run, taken people on and bring the ball out at feet is a nuisance to any defense, especially a tiring one.   Even if it was an in game tactical tweak, Klopp could opt to switch Fabinho to right back and throw Trent into midfield to provide this spark if a game ever threatens to go flat or the front three need more service.
We've only seen Trent in midfield for a few sparing moments, such as the away defeat to Chelsea last season. It wasn't an encouraging start, but you cannot write him off for that one game with tired legs blatantly taking their toll at The Bridge that day.  He has the quality to really offer something in that area.  Yes he's not the biggest lad, but he has never looked too over awed when roughing it up in defensive displays, plus you'd risk slowing him down if he beefed up too much.
For now though, he looks like he's doing just fine learning his trade at full back, it's not a bad place to start out in fairness as Joe Gomez is now showing.  Whatever happens with his position, it's clear that we have wonderful talent who could be pivotal to our future ambitions.  We can trust in Klopp to manage him properly in these all important formative years. Any player who can show up Mancs on the training ground has got to be worth his salt to us!